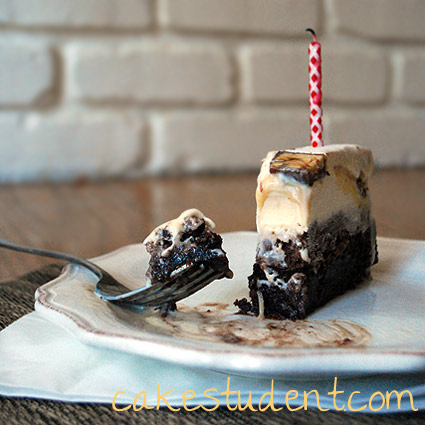 Another year, another cake! Happy Birthday my love.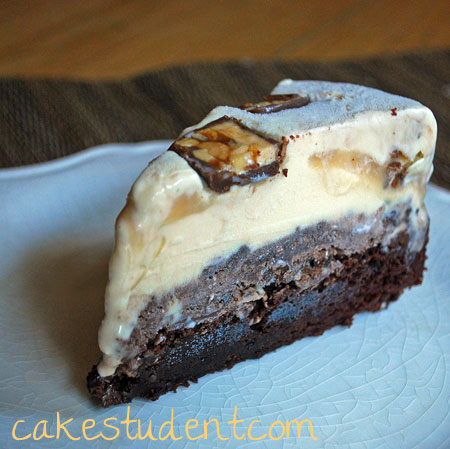 Composed of his favorite candy bar (snickers), his favorite ice cream accompaniments (brownies & Nutella), and his favorite brand of vanilla ice cream… this cake was literally made for my husband. If I could offer any advice for someone trying to make an ice cream cake, just think about who you are making it for, and what their favorite sweets are. Then work with them. Chances are you will create something really special.
This year I used crushed cookies mixed with nutella to give it some more crunch. Luckily, I have a 2 year old who loves using a hammer…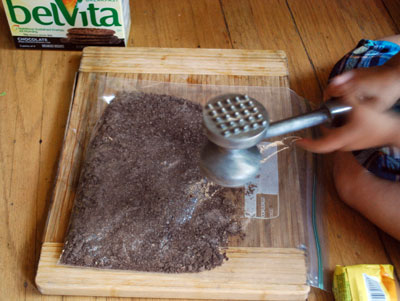 I also took last years note to myself and used the dulce de leche on the top as a bed for the snickers bars. BUT… I was a little impatient toward the end and spooned the dulce de leche on the top of a "not totally frozen" ice cream layer. Look closely, you can see how it sunk a bit at the top there. But, I think it looks cool. Proof that you can mess up and no one will be the wiser!
Note for next year: use the dulce de leche for writing Happy Birthday, but wait until the top is frozen!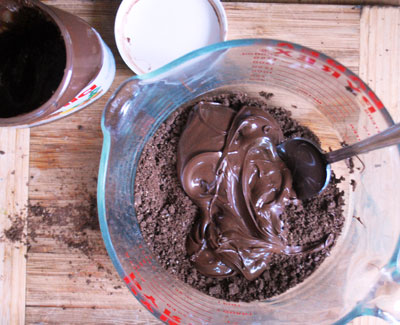 Snick-a-tella cake has become a tradition for our family and it's really so perfect for a summer birthday celebration. Especially with the brownie in there you don't miss having cake at all. A one-of-a-kind rich and cold dessert on a hot summer day!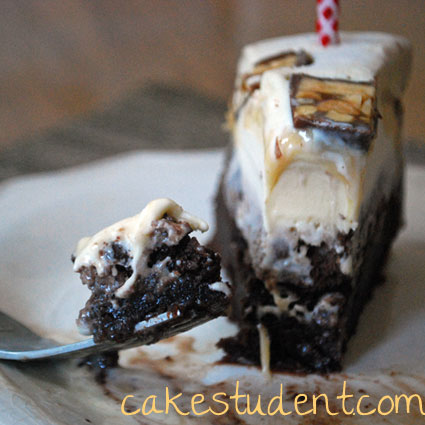 See also: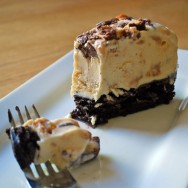 Snick-a-tella Ice Cream Cake II
Snick-a-tella Ice Cream Cake III
My husband's Annual Birthday Ice Cream Cake
Ingredients
1 prepared pan of Brownies (in a 9″ spring form pan)
1 half gallon Vanilla Ice Cream
½ (heaping) cup nutella
2+ cups Chocolate biscuit cookie, crumbled
3 tablespoons milk
2 Snickers Bars, chopped
dulce de leche (optional – instructions in future post)
Instructions
In a large bowl, mix nutella with the crumbled cookies. Stir in milk by the tablespoon until you get a spreadable consistency. Spread this nutella mixture onto the brownie layer.
Freeze for 15 minutes while ice cream is softening on the counter.
Spread a layer of ice cream onto the nutella layer. If the ice cream is too soft to float snickers chunks, then freeze for 5-10 minutes until its sturdy enough. Add the snickers, and drizzle the dulce de leche. Freeze for at least a 3-4 hours before serving.
To serve, let it sit on the counter for about 10 minutes to soften.