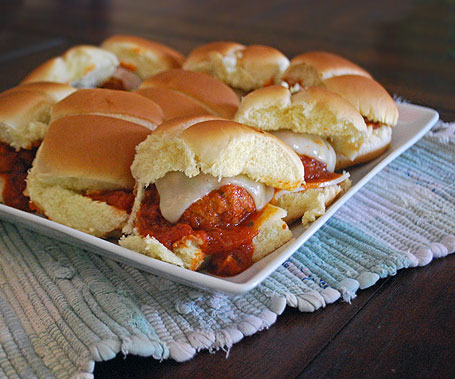 Love these sliders! Super tasty and perfectly sized for little kid hands. Aa an added benefit… I found that these mini sandwiches also help adults with portion control. Score!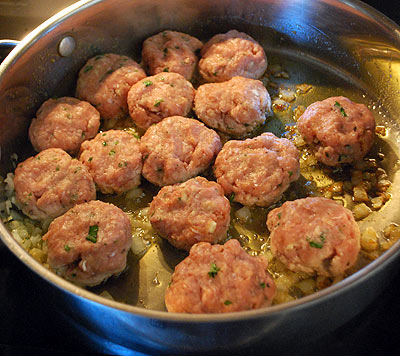 Thanks to Pioneer Woman for this great idea, I did change up the recipe to use ground turkey and it was excellent.
I also suggest slightly flattening the meatballs so they are easy to flip during cooking, easier to bun, and give the kids a fighting chance to take a full bite. Heaven forbid we lose yet another meatball to the dog!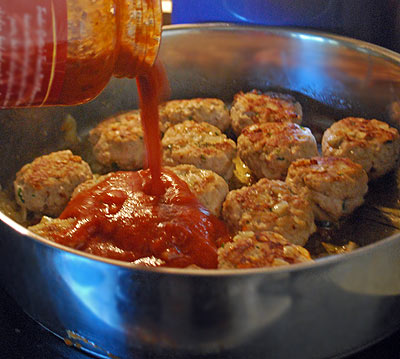 I have to ask though, at what point does a meatball become a burger? Size, seasoning, shape. These seem to have properties of both. Maybe we can just call them a hybrid? I don't think it matters, they taste fantastic and make a fun meal.

Turkey Meatball Sliders
adapted from Pioneer Woman
Ingredients
1 pound ground turkey
½ cup Panko bread crumbs
2 cloves garlic, minced
¼ cup parmesan cheese
1 teaspoon italian seasoning
salt & pepper (few shakes of each)
2 tablespoons olive oil
½ medium sized onion, diced
1 jar marinara sauce
12 whole Dinner Rolls
6 slices provolone cheese
Instructions
In a large bowl, combine the turkey, bread crumbs, garlic, cheese, and spices.
Roll them into small meatballs, slightly flatten them.
In a large skillet, heat the olive oil and onions over medium-high heat.
Add the meatballs and let them cook for a few minutes until browned. Flip them over. Lower heat to medium. Add the jar of marinara sauce, cover the skillet.
Simmer for 20 minutes.
Meanwhile...
Take the slices of provolone cheese and cut them into quarters. Slice your dinner roles in half and place 1 slice of cheese on the top role, and 1 slice of cheese on the bottom half of the roll.
When the meatballs are finished cooking, carefully spoon one meatball per roll (drizzle a little sauce on top of the meatball). Serve!