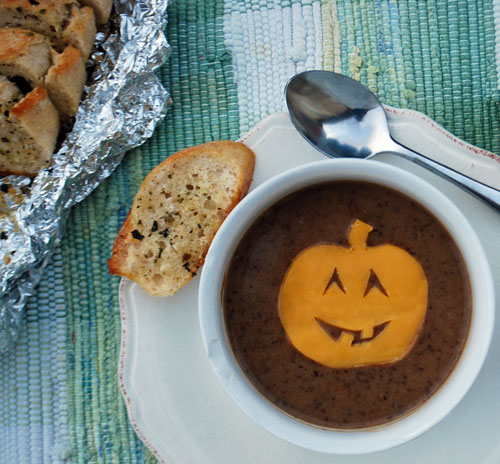 For me, the scariest part of Halloween is what is lurking behind my pantry door… the monster sized bag of mini chocolate candybars. I swear I can hear them whispering my name.
I realized all this candy sneaking had gone too far when last night I was actually doing sit ups while a Reese's peanut butter cup was dissolving in my mouth.
Sigh.
That is why I am not blogging about cupcakes or cookies today.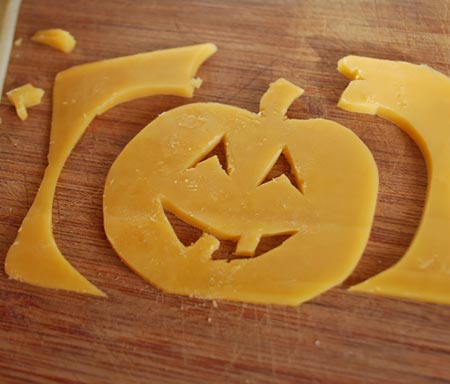 The evenings are getting chilly and hot bowl of soup with crusty bread is making a regular appearance on our weekly dinner menu.
The inspiration for cheese decorations came from a fellow blogger friend who makes insanely creative super hero soups. Check out Crackers on the Couch Batman soup!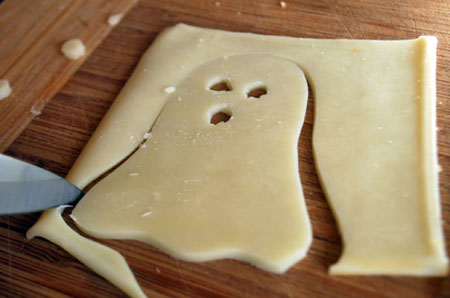 I am so looking forward to Halloween night, my boys are going dressed as a brave knight and a friendly green dragon. Instead of worrying about dinner, I plan to make this soup the day before. The night of, quickly carve out white cheddar cheese ghosts and yellow cheddar cheese pumpkins to decorate the black bean soup.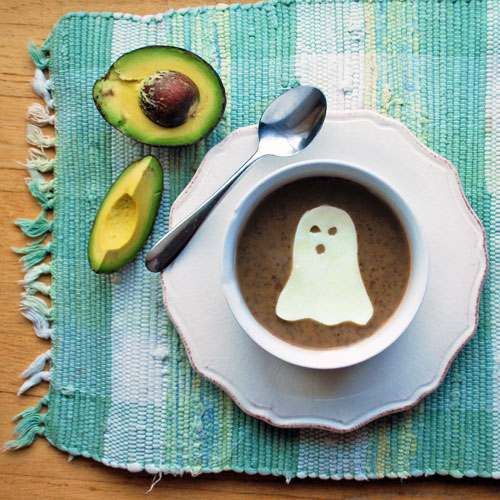 Spirited and tasty comfort food. Boootiful. Have a happy and safe Halloween everyone!
Recipe: Black Bean Soup
Ingredients
1 carrot peeled and chopped
2 celery stalks trimmed chopped
1 onion chopped (about 1 cup)
2 cloves garlic chopped
1 can black beans, drained
1 can white kidney beans, drained (cannelloni)
1 tsp ground coriander
a shake of cayenne pepper to taste
1/2 tsp dried oregano
5 cups chicken broth
Juice of 1 small lime
(optional avocados for serving)
Instructions
In a medium sized soup pot, heat a little oil then add carrots, celery, onion, and garlic.
Saute for 5 minutes.
Then add everything else, bring to a boil, then reduce heat and simmer for 20 minutes.
Blend with a hand blender until smooth.
Serve with avocados, cheddar cheese and some rolls.
Preparation time: 10 minute(s)
Cooking time: 30 minute(s)
Number of servings (yield): 4