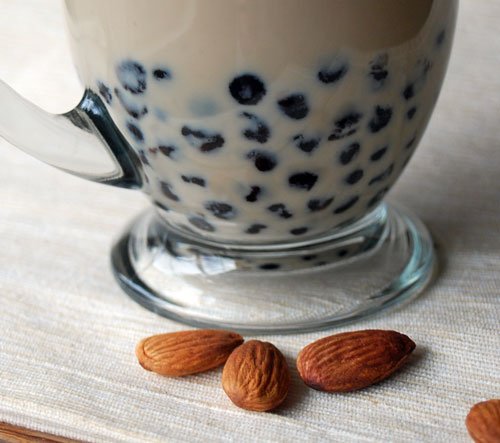 I was so excited to get a package of syrups from my friends over at Nature's Flavors last week, and I immediately pictured the syrup bottles used at our favorite bubble tea shop. It has been too long since we had some chewy, sweet and slippery pearl tapioca bubble tea in this house.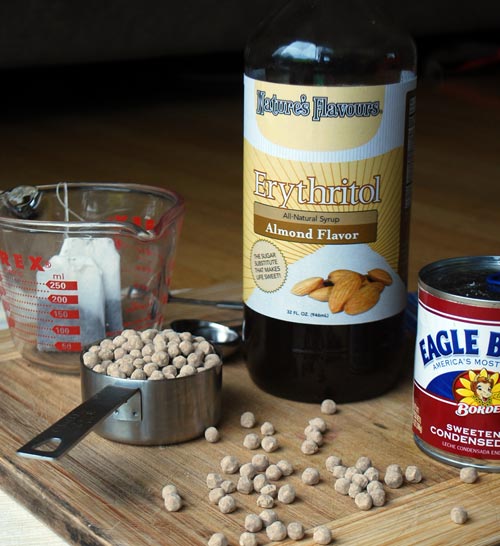 The syrups they sent are Erythritol syrups. Specifically: Erythritol Almond Flavor Syrup. Ummm, what is Erythritol? I had no idea until I read the bottle:
"Erythritol is a natural sugar alcohol (a sugar substitute) which can be found in fruits and fermented foods. It is nearly as sweet as sugar but has less than one calorie per gram. Erythritol does not affect blood sugar levels or cause tooth decay. Erythritol is absorbed by the body, unlike some sugar alcohols, reducing gastric side effects."
So is it sweet? Does it taste like syrup?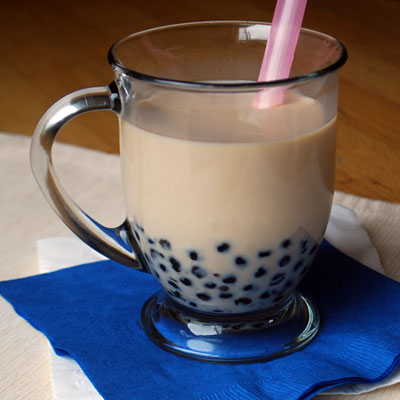 Yep and yep. It tasted delicious in the bubble tea, and also worked beautifully in home made chocolate almond ice cream. The bubble tea I added sweetened condensed milk to sweeten the deal, but the ice cream I used the syrup as a substitute for the sugar and although not very sweet it did the trick.
But this post is about the bubble tea…
To serve it hot: use steaming hot fresh brewed tea.
To serve it cold: pre-brew the tea and let it sit to room temperature. Add crushed ice to the glass.
So without further ado, here is the must-have easy-to-make almond milk bubble tea recipe (makes 2 mugs or 1 tall glass):
Recipe: Almond Milk Pearl Tea
Ingredients
1/2 cup Bubble Tea Tapioca Pearls
4 cups water
2 tablespoon honey
1 tablespoon brown sugar
1 cup strong Black Tea
1 cup milk
1 tablespoon almond flavor syrup
1 tablespoon Sweetened condensed milk (optional)
Instructions
Boil the water. Add tapioca pearls and stir until they float (a few minutes). Continue to boil for 15 minutes (stir occasionally).
Remove from heat and cover. Let sit for 15 minutes.
Drain and rinse with cold water.
Add honey and brown sugar to pearls, stir to form a syrup. Refrigerate until ready to use.
To serve: Stir the tea, milk, syrup, and (if using) sweetened condensed milk into your glass. Taste and add more syrup/sweetened milk to your liking.
Spoon about 1/4 cup pearls to the glass. Add the cute and functional large bubble tea straw, serve and enjoy!
Preparation time: 10 minute(s)
Cooking time: 30 minute(s)
Number of servings (yield): 2