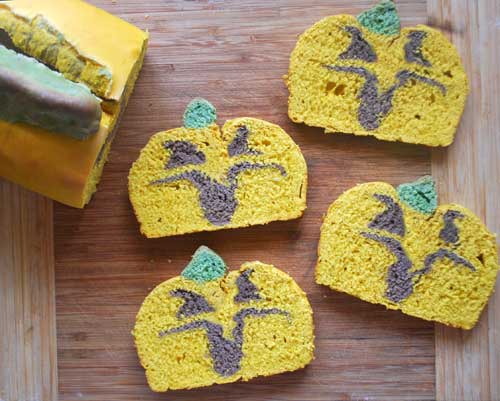 Ooooooooh, my kids are getting some pretty cool sandwiches this Halloween!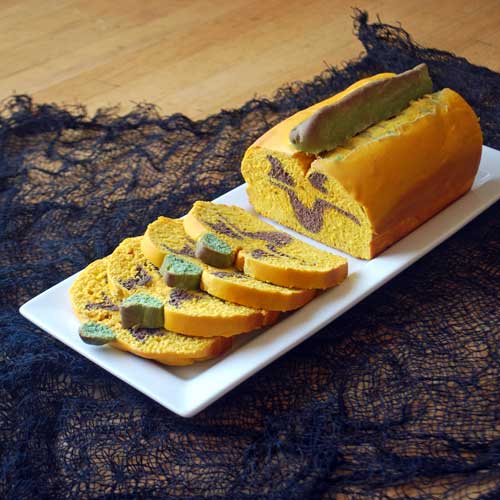 This is a pumpkin SHAPED bread (not flavored) so I was able to make all sorts of sandwiches with it. The bread dough was colored using a "pumpkin orange" natural food dye made by Nature's Flavours. The eyes and mouth were colored using a dark cocoa powder.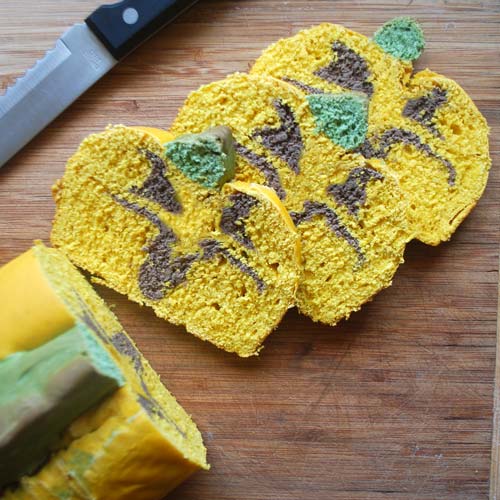 As per requested by my 4 year old, this pumpkin is a happy pumpkin. The smile was actually quite easy to make. I imagine a frown or wavy smile would be equally simple to achieve. Its all about the placement of the supporting dough logs.
This bread can be fun to make with children. Ask them to form the eyes, (nose?) and mouth for the pumpkin face and see what you get!
As an alternative to the orange, try a scary black pumpkin with white/orange/red eyes. Or choose a white pumpkin for minimal coloring work.
I noticed that the baking took its toll on the cute green stem. I would recommend that during baking you use a foil tent over the green stem after it starts looking toasty… so maybe for the last 10 minutes. This will prevent over browning and help the bread become more sliceable.
To see step by step instructions on how to make this bread and many other examples of bread art, check out my new eBook!
Recipe: Sweet White Bread
Ingredients
1 cup warm milk (microwave for about 30 seconds)
1 egg yolk
2-1/4 teaspoons active dry yeast (1 packet)
3 tablespoons white sugar
1 1/2 tablespoons unsalted butter, softened
1 teaspoon salt
3 cups all-purpose flour or bread flour
Instructions
Stir the warm milk, egg yolk and yeast, pour into the bread machine. Wait 5 minutes for it to foam. Then add remaining ingredients.
When dough is ready, color and shape your bread.
Preheat oven to 350F. Place into a well greased bread loaf pan. Bake at 350F for 30-35 minutes or until the crust is golden brown and sounds hollow when tapped. Let it cool before slicing.
Preparation time: 1 hour(s) 40 minute(s)
Cooking time: 30 minute(s)