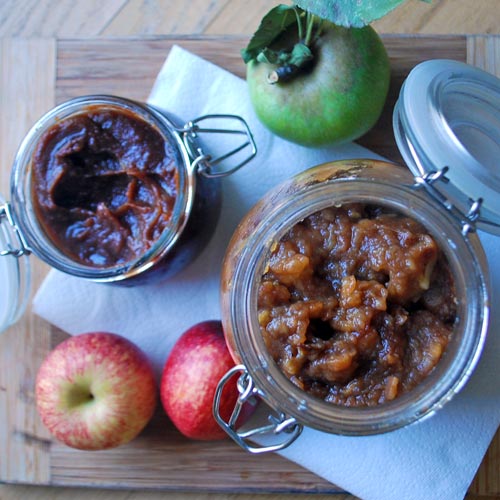 Last year I made spicy apple butter via the slow cooker… it was so good I made it this year too. But I also made applesauce, which is essentially the same ingredients and cooking method but the cooking time is much shorter.

Slow cook 3 hours = applesauce
Slow cook 10 hours = apple butter
Notice the color and consistency difference between the butter and sauce (photo above)?
This recipe is very forgiving, play with your spices. Last year I used cinnamon and all spice. Since all spice was no where to be found in my cupboard, I used my old friend ground cloves and it was delicious.
If your apples are sweet, skip the sugar, you won't need it!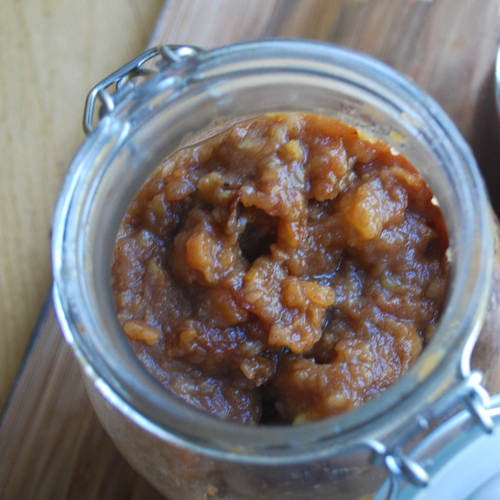 My boys could not get enough of this. It became dessert every night while it lasted.. which wasn't long in this house. Yum.
Recipe: Chunky Applesauce
Summary: slow cooker method
Ingredients
12 Apples, peeled and cored and sliced
1/3 cup water
1/4 cup brown sugar (optional)
1/2 tsp cinnamon
1/2 tsp ground cloves
Instructions
Throw everything into your slow cooker.
Cook 3 hours on Low.
Store in a sealed container in your fridge for about 7-10 days, or can it. Makes about 6 cups, depending on the size of your apples.
Preparation time: 15 minute(s)
Cooking time: 3 hour(s)