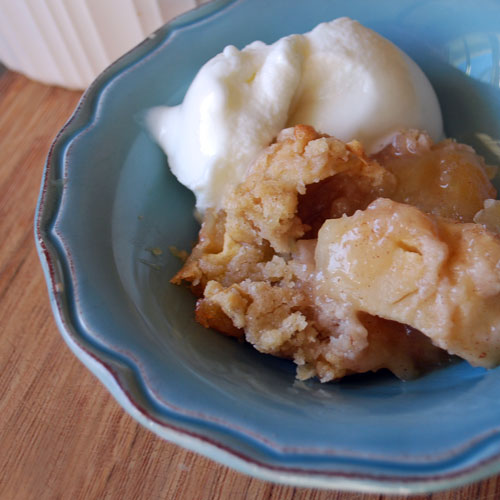 Sadly my mom has gone back to the East coast, and as I folded the clothes this morning I realized it was the first time I had done laundry in 2 weeks. Ugh. I miss you mom. Not only does the woman do laundry and babysit, but she bakes too! She picked out an apple cobbler recipe from my Mark Bittman "How to Cook Everything Vegetarian" book, threw it together in seconds. I didn't know she was baking until I smelled something like hot apple pie coming from the kitchen.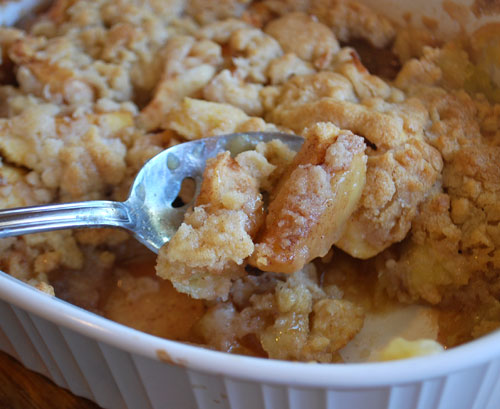 The apple cobbler was so delicious we were licking the dish clean, so what does she do? Oh ya, thats right, she makes another one.
The recipe calls for an egg in the crumb topping, so as an experiment one cobbler was done with the egg, the other without. What we discovered is with the egg the topping sort of melts down between the apples and bakes into it, resembling a bread pudding loaded with soft apples (yum). Without the egg, the topping stays on the top and the dish has a drier, chunkier and crumbly topping. Either way you chose, it makes an extraordinary Fall dessert and perfect way to use up those 'apple picking' apples. (Photo above is without the egg).
Of course, you can't have apple crisp without the ice cream… or at least you shouldn't.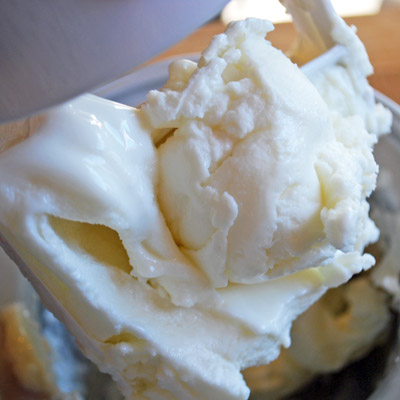 Mark Bittman suggests buttermilk ice cream, so I got out our new Cuisinart Ice Cream Maker

if you are in the market for a machine I highly recommend this one!) and before long we had fresh, soft, sweet buttermilk ice cream to be served with the apple crisp. A match made in heaven.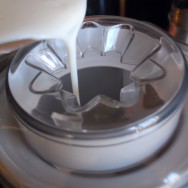 The lovely people over at Natures Flavours sent me some exciting products to test out. This was the perfect opportunity to try the Organic Flavor Vanilla Extract and Organic Granular Sugar. I used them for both recipes and they were delicious. Using a high quality vanilla extract was especially important for the taste and aroma of the ice cream.
FYI, the original ice cream recipe doesn't use the vanilla and the original apple crumble recipe doesn't use cinnamon. We made these adjustments because we prefer the cinnamon and vanilla flavors in the dish.
I should mention that although I was not charged for the natural Natures Flavours products, all the opinions expressed here are my own.
Recipe: Apple Cobbler
Summary: adapted from Mark Bittman
Ingredients
8 tablespoons of cold butter, cut into bits, plus extra butter for the pan
3 pounds of apples, peeled, cored, sliced into wedges (about 6 cups worth)
1 cup sugar, divided
1 teaspoon ground cinnamon, divided
1/2 cup all-purpose flour
1/2 teaspoon baking powder
pinch of salt
1 egg
1/2 teaspoon vanilla extract
Instructions
Preheat oven to 375F
Rub butter into an 8 or 9 inch baking dish.
Toss the apples with 1/2 cup of the sugar and 1/2 teaspoon cinnamon. Spread them into the prepared baking dish.
Prepare the topping: combine the flour, baking powder, salt, remaining 1/2 teaspoon of cinnamon, and the remaining 1/2 cup sugar. Add the butter bits and use a fork or your hands to crumble. Stir in the egg (if using), and vanilla.
Drop the topping onto the apples. Bake until golden, about 35-45 minutes. Serve warm.
Preparation time: 15 minute(s)
Cooking time: 40 minute(s)
Number of servings (yield): 8
Recipe: Buttermilk Ice Cream
Summary: adapted from Mark Bittman
Ingredients
2 cups milk, divided
2 tablespoons cornstarch
1/2 cup sugar
1 cup buttermilk
1 teaspoon pure vanilla extract
Instructions
In a small bowl, stir together the cornstarch and a few tablespoons of the milk until dissovled.
In a saucepan over medium-heat, add the remaining milk and heat just until it comes to a low boil.
Whisk in the cornstarch mixture and sugar.
Heat and continue whisking until thick. It is ready when the mixture coats the back of a spoon (make a line with your finger, if the line remains intact it is done!).
Set aside and let cool completely.
Add buttermilk and vanilla, then use in your ice cream machine.
Preparation time: 1 hour(s)
Cooking time: 20 minute(s)
Number of servings (yield): 6