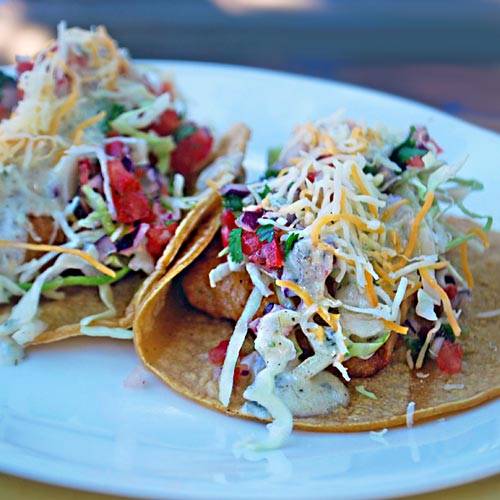 I use to love going out for a good fish taco when we lived in San Diego. Now that we are up in Northern California it's not something you find easily and when you do find it's not comparable. I think it's the white sauce and shredded cabbage that make this taco so delicious and so unique to the region.


Many places offer fish tacos with the option of fried or grilled fish, if you can't tell I'm a fan of the fried fish. But if you want to be more health conscious then grill or pan-cook your fish with some salt and pepper and make these accordingly with the white sauce and all the toppings.
Going with the beer batter? Ya… that's the way we roll too. I do always seem to have beer batter left over and I don't want to throw it out. This is when I raid my fridge to find some leftover random veggies. Batter and fry them up, and enjoy!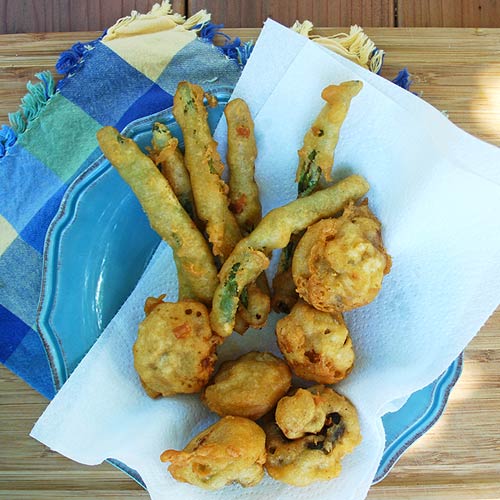 The recipe calls for pico de gallo, fresh is best but if you are lucky enough to have a grocery store that makes pico de gallo, then it might worth a try to save on time. You can also just chop up a tomato and some cilantro too if you have it.
If you have never tried one of these tacos, you really must! And if you can't go to San Diego, then give this recipe a try, it's the next best thing I promise.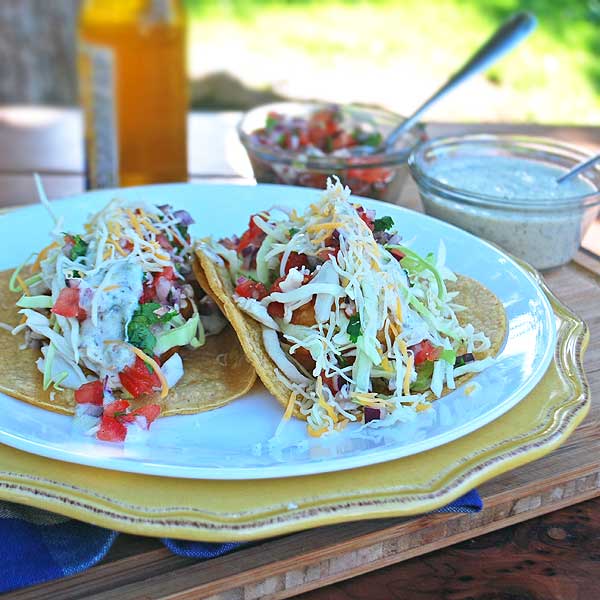 Fish Tacos
Ingredients
WHITE SAUCE
½ cup plain yogurt
½ cup mayonnaise
1 lime, juiced
1 jalapeno pepper, minced
1 teaspoon minced capers
½ teaspoon dried oregano
½ teaspoon ground cumin
½ teaspoon dried dill weed
1 teaspoon ground cayenne pepper
BEER BATTER
1 cup all-purpose flour, plus extra for dusting the fish
1 teaspoon baking powder
½ teaspoon salt
1 egg
1 cup beer
FISH TACOS
1 quart oil for frying
1 pound cod fillets, cut into small portions (basically cut to the size you want in your tacos)
1 (12 ounce) package corn tortillas
½ head cabbage, finely shredded
pico de gallo
Instructions
White Sauce
Stir together all ingredients (from the yogurt to cayenne pepper). Adjust seasonings to taste. Keep chilled.
At this point, start to heat your oil for frying. You want it at a temperature of 375F.
Beer Battered Fish
In a large bowl, stir together the flour, baking powder, salt.
In a separate bowl, whisk the egg and the beer together. Stir this into the flour mixture until combined.
Roll/coat your fish pieces in some flour, then dip into your beer batter. Deep fry in oil until a beautiful golden brown and crispy. Let them dry on a plate with paper towel.
Assemble tacos: Place one fried fish on a corn tortilla, top with pico de gallo, cabbage, and drizzle on some white sauce to taste.
Optional toppings: sliced avocado and shredded mexican blend cheese.