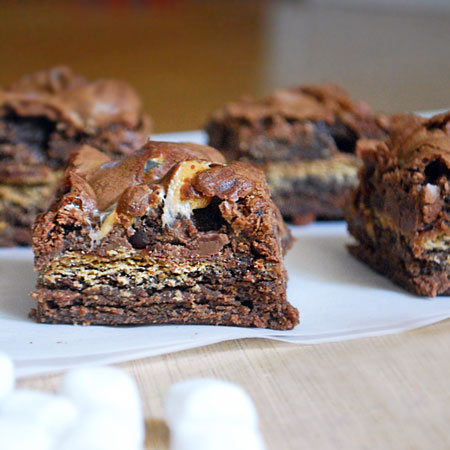 My pregnant self has a major addiction to chocolate right now. My family is thanking their lucky stars for that! These s'mores brownies bring a little campfire sweetness into the kitchen.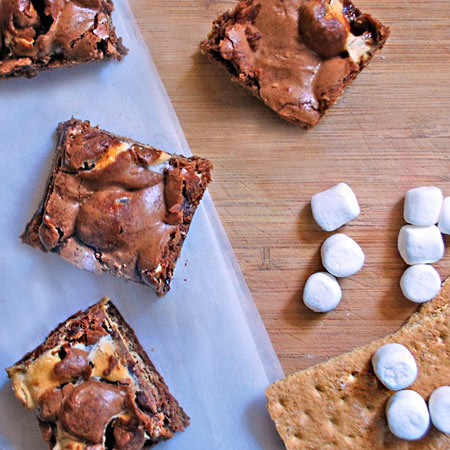 I found several recipes out there for similar brownies but I love the layered effect and simple ingredient list that this one has from Nicole at The Marvelous Misadventures of a Foodie.
Admittedly, I was skeptical about baking graham crackers (soggy?). But was pleasantly surprised with a slightly crunchy middle layer. Nicole uses Hershey bars, but I substituted with what I had in the pantry… good old chocolate chips.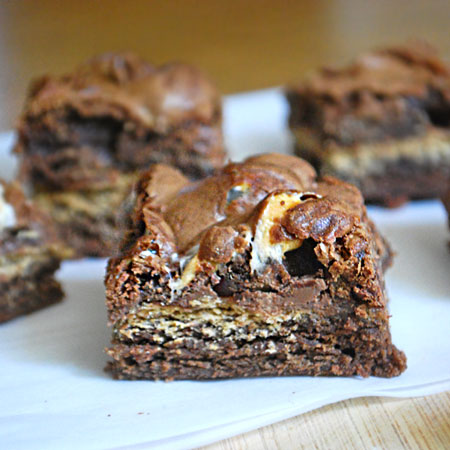 Loved them! Easy and quick to make and perfect for campfire leftovers.

S'mores Brownies
Ingredients
1 ½ sticks (3/4 cup) unsalted butter
1 ½ cups white sugar
3 eggs
1 teaspoon vanilla extract
½ cup unsweetened cocoa powder
1 cup all-purpose flour
½ teaspoon baking powder
¼ teaspoon salt
6 graham crackers
¾ cup chocolate chips (or 4 1.5 oz Hershey's bars)
5 oz marshmallows (regular or mini)
Instructions
Preheat oven to 350F. Grease an 8 inch square baking pan.
In a large pot, melt the butter over medium heat. Remove from heat.
Stir in vanilla, sugar and eggs. Now mix in the dry ingredients ( cocoa powder, flour, baking powder and salt) until combined.
Pour half of the batter into the prepared pan.
Add your graham cracker layer ( I had to break mine to make sure the brownie batter was covered).
Add the chocolate layer, then sprinkle on your marshmallows.
Finally, top with the remaining brownie batter spreading it as evenly as you can. (Mine looked messy but came out just fine).
Bake at 350 for about 35 minutes.
Let them cool completely.