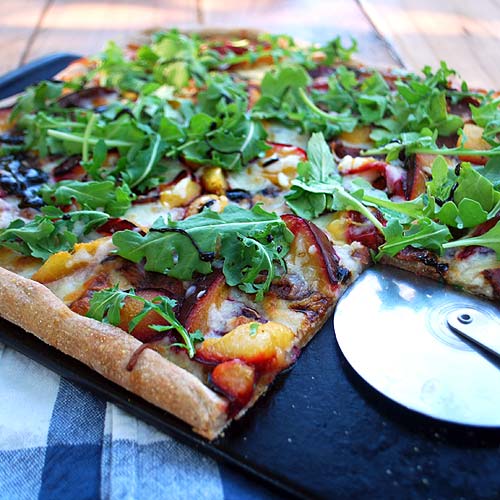 I wanted to try a new pizza and this one didn't disappoint. The salty savory bacon complimented the sour plums perfectly and the spicy arugula topping made it a refreshing choice for a summer pizza.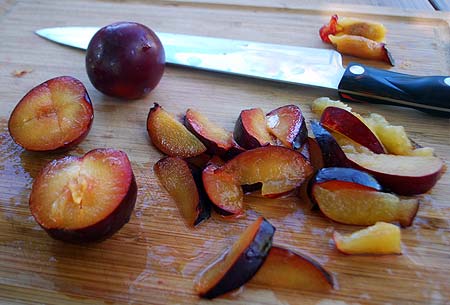 Mmmmmmm, plums.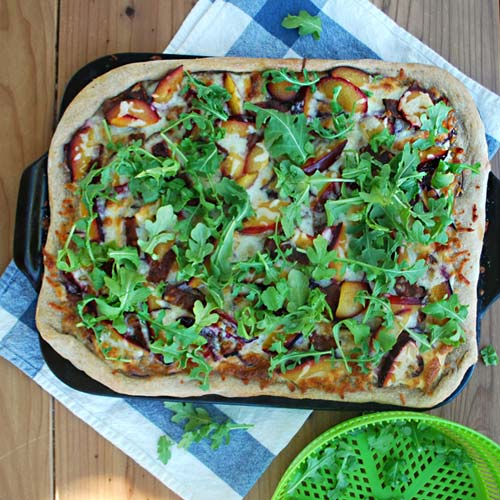 Inspiration for this pie came from the peach and gorgonzola chicken pizza we usually make. I tried the balsamic glaze but it really didn't need it. Plums have a much bolder taste than the peaches so they do fine without any kind of dressing help. I hope you enjoy!

Plum Bacon Pizza
Ingredients
1 pizza dough
2 tablespoon corn meal
¼ cup red onion, thinly sliced
1 tablespoon olive oil, divided
2 cups shredded mozzarella cheese
4 strips of bacon (cooked and chopped)
3 to 4 small plums, thinly sliced
a handful of Arugula Lettuce
Instructions
Preheat oven to 400.
Lightly oil a pizza pan or baking sheet. Dust the pan with the corn meal.
Roll out dough on floured surface. Transfer to the prepared pizza pan.
Brush on a little olive oil and top with the red onion slices.
Bake for about 10 minutes. Remove from oven.
Top with half the cheese, then add the bacon and plums, top with remaining cheese.
Bake for additional 10 minutes or until the crust becomes nice a golden color.
Remove from the oven and top with the arugula.
Serve hot.