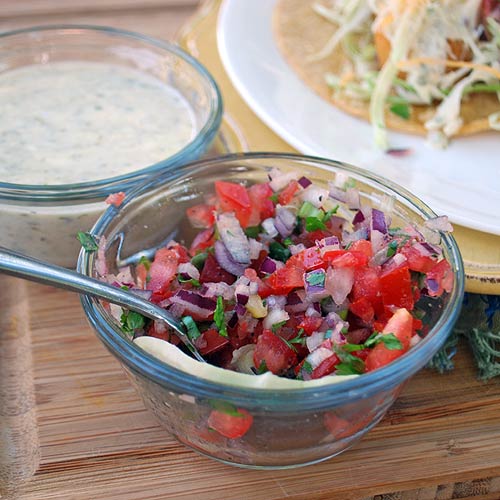 This is my go to Pico de gallo salad, you can add diced chilies but I omit because of the little kids.
We use it for all sorts of things.. like topping our burgers and hot dogs, as a dip with chips, scrambling them into eggs for breakfast.. and most especially with tacos or Mexican dishes.
Just in time for the Memorial Day picnic, easy, fresh & simple, set this out next to some tasty tortilla chips.
Stay tuned for my next post on beer battered fish tacos! Yum.

Pico De Gallo
Serve along side chips, top tacos, top burgers, mix into scrambled eggs.
Ingredients
1 large tomato, diced
½ red onion, finely chopped (equal or less amount than the tomato)
2 sprigs fresh cilantro, finely chopped
1 green onion, finely chopped
½ teaspoon garlic powder
⅛ teaspoon salt
⅛ teaspoon pepper
1 lime, squeezed
Instructions
Toss all ingredients in a small bowl.
Let it chill until ready to serve.