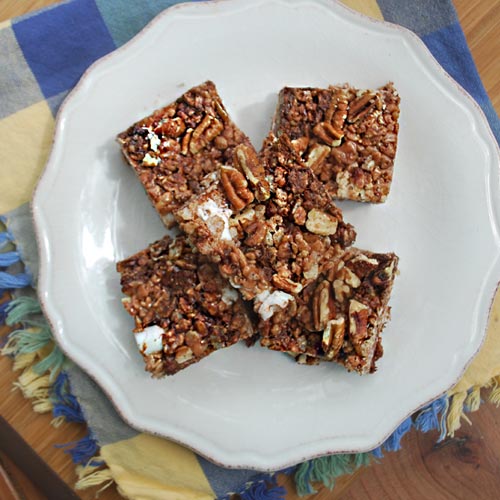 These rice krispie treats are magical, I made a 13″x11″ pan of these last night and they all but disappeared by morning.
Amazing right?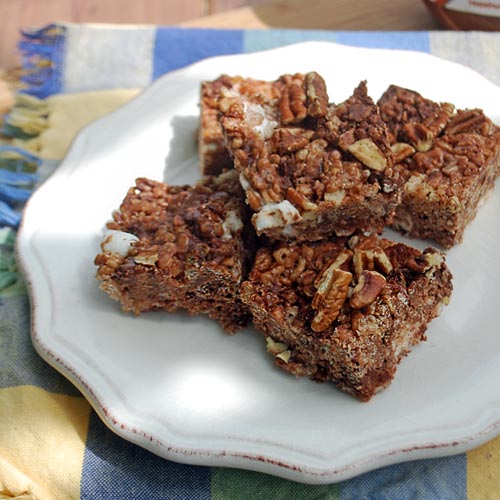 Also amazing, they take a mere 10 minutes to make.
Let me tell ya, when you're 7 months pregnant and your sweet tooth is as big as your belly, having 10 minutes and this recipe is a dream come true.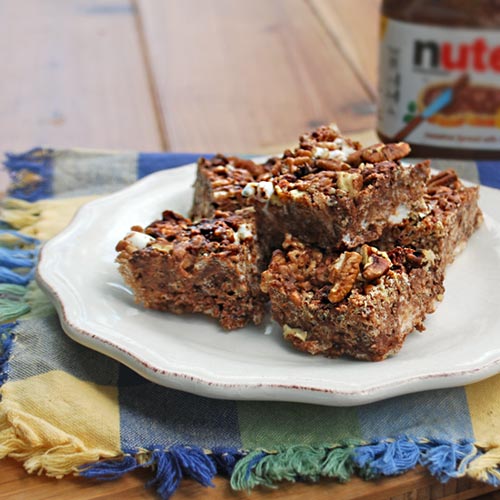 We still have to decide on a name. Right now I'm thinking Rocky. I swear that every evening my tummy is hosting a boxing match, that coupled with my insane craving for these delectable squares of goodness… the name seems rather fitting.
These were inspired by Pioneer Woman's recipe, which I altered a bit to save myself some time.
Enjoy!

Rocky Nutella Krispie Treats
Ingredients
6 tablespoons butter, divided
10 ounce bag of large marshmallows
⅛ teaspoon salt
⅓ cup nutella
6 cups of crispy rice cereal (Rice Krispies or store brand)
1 cup pecans, chopped & divided
1½ cup min marshmallows
1 cup semi sweet chocolate chips
Instructions
Grease a 11"x13" pan, set aside.
In a large pot (I like using a big soup pot), melt 4 tablespoons of butter over medium-low heat.
Add the large marshmallows and stir. When those are about half way melted, add your nutella and keep stirring until all is melted.
Add your rice cereal and stir until coated.
Stir about ¾ cup of the pecans, mini marshmallows and chocolate chips. Transfer to the prepared 11"x13" pan and press down. Top with remaining pecans and press them down.
Cool, cut into squares, enjoy!