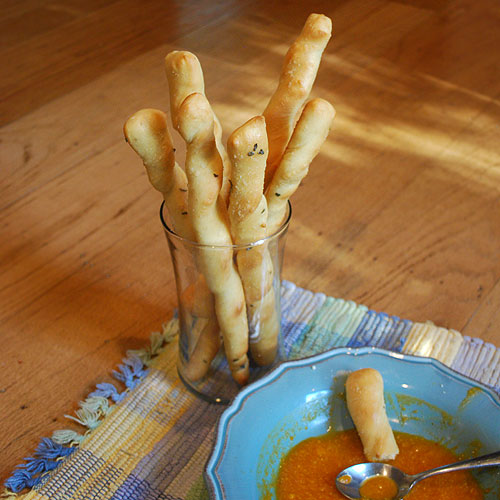 Oh yum, these are dangerously delicious and easy to make. I especially love that the kids can participate in preparing dinner by shaping and twisting the bread dough.

I serve these up along side my summer vegetable chowder (which is by far my most favorite soup to make in the summertime when tomatoes, bell peppers and corn are in season) to make a complete meal.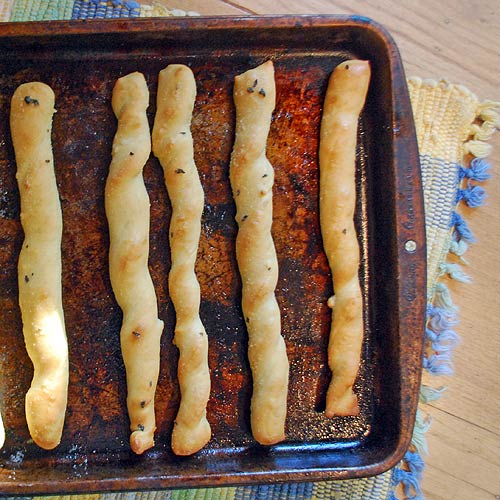 Once they come out of the oven, brush them with melted butter and sprinkle with garlic salt and a little dried basil.
Oh, and try not to eat the whole batch before serving dinner. Enjoy!

Soft Garlicy Breadsticks
Quick and easy, soft and delicious home made breadsticks. (Adapted from www.food.com)
Ingredients
1 cup warm water
3 tablespoons brown sugar
1 teaspoon salt
¼ cup oil
3 cups bread flour
2½ teaspoons yeast (1 packet)
Instructions
Make the dough by hand, mixer, or use your dough setting on the bread machine.
Roll it out and cut long strips about ¾" wide and 10" long. Twist and shape them, note that keeping them on the thicker side will create a softer bread when you bite into them.
Arrange them on a greased cookie sheet and let sit for 20 minutes to rise.
Bake at 375F for about 12-15 minutes (until golden). Once they come out, immediately brush with melted butter and sprinkle with a little garlic salt and dried herbs (I went with basil) or parmesan cheese.