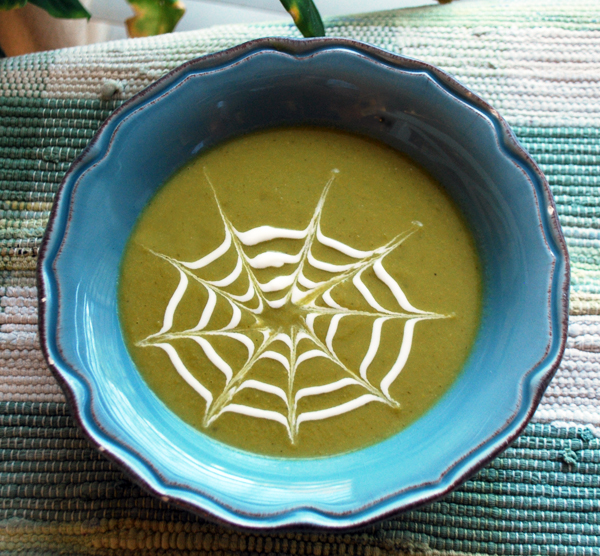 I always thought pea soup smelled, and looked delicious, but the truth is I have never tasted any that I actually liked. However, it's been so long since I tried some, so I decided to make this minty pea spring soup for my family. The results… my 2 year old ate half a bowl, my husband thought it was just ok (after he shaked on plenty of red pepper flakes), and I could barely get the first spoonful down. What can I say, we aren't a pea soup kind of family.
But I do consider it a semi-success, because I got my toddler to eat a very healthy green lunch. OK, so it wasn't just the taste that he liked, I may have used a trick on my currently obsessed with Spiderman little boy… I piped some plain yogurt in the shape of a spiderweb… and told him Spiderman put it there (I know I'm so bad). But its for the greater good. Besides, with great power comes great responsibility. Decorating… my superpower.

The web
Pipe (plain yogurt or sour cream) several containing circles. Then take a toothpick, start from the center and gently pull out a straight line, repeat until the web is formed.
The Recipe
(If you have a pea soup recipe that you swear by, please share it with me!)
1 tablespoon(s) margarine or butter
1/4 cup chopped onion
16oz chicken broth
1 cup water
16oz bag frozen peas, thawed
1 small potato, peeled and cut into small chunks
2 TBSP fresh mint leaves, chopped
Salt & pepper to taste
In a medium sized pot, saute onions in butter. Then add everything else and bring to a boil. Then reduce heat and simmer for 15 minutes. Remove from heat and blend in a blender or use a hand blender until smooth. Makes about 4 servings.