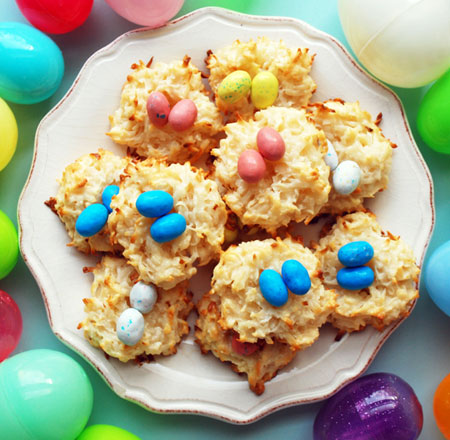 Similar to the Birds Nest Cupcakes I have made in the past, these extremely tasty and tender macaroon cookies are a perfect Springtime party treat… and so easy to make. The dough is so quick to whip together, a very very easy project and one you can do with kids because there is no raw egg in the batter. This recipe made me about 1 1/2 dozen cookies… really it should have produced more, but the dough tasted so good!!!


I think these cookies would be so cute for any type of Spring party. You could display them in an Easter basket, or on a platter and garnish it with Pepperidge Farm Pirouette rolled wafer cookies.
Coconut Macaroon Birds Nest Cookies
2/3 cup all-purpose flour
1 (14 oz) bag of sweetened flaked coconut
1/4 teaspoon salt
1 (14 oz) can sweetened condensed milk
1 tsp vanilla extract
1 tsp almond extract
Candy Eggs of your choice. I used whopper Robin Eggs.
Preheat oven to 325 F.
In a large bowl, mix flour, coconut, and salt. In a smaller bowl mix the condensed milk and extracts. Stir the milk mixture into the coconut mixture.
Line a baking sheet with parchment. Spray your hands in some cooking spray, then pull out some dough from your bowl and drop it onto the parchment paper. You don't want to roll the dough, just try to drop and form it into a nice nest and use your finger to make a slight indent in the middle.
Bake for 15-20 minutes, or until its a light golden color. Cool on a rack, but while its still slightly warm you can position the candy egg into the cookie so it sticks. Enjoy!