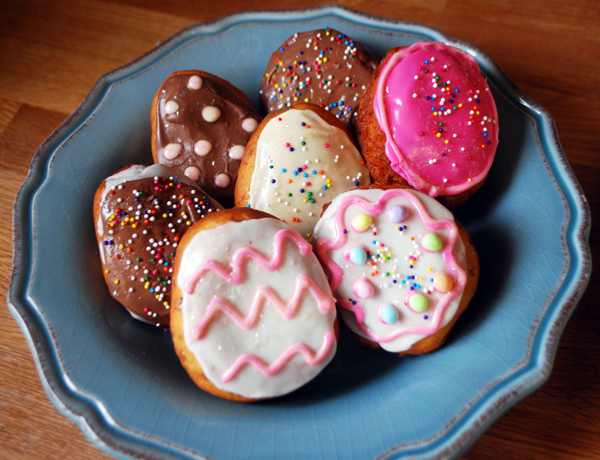 Whats better than a cinnamon bun? Cinnamon bun donuts.. shaped like Easter Eggs!
These couldn't have been more easy to make. All you need is 1 can of the refrigerated Cinnamon Roll Dough that comes with the icing. Not only is the dough and icing already prepared for you, but the dough is also divided into perfect sized portions. The donuts can be made quickly so you can spend less time making the donuts and more time decorating them.. turn it into a fun decorating project with your kids!


Fry the Donuts
Get the deep fryer ready and set the temperature to 365F, or heat a small pot of oil and use an oil thermometer to reach the correct temp. Meanwhile, take each dough portion and mold into egg shapes. When the oil is ready, just pop in the donut and wait until it floats to the top and turns golden in color.
Decorating
Use the packaged icing, portion the icing into different bowls and color with your choice of food coloring. Use a sandwich ziploc baggie (cut a small piece of the corner) and pipe decorations on the donuts. You can also use melted chocolate to dip the donuts in, decorate with chopped nuts and/or sprinkles.