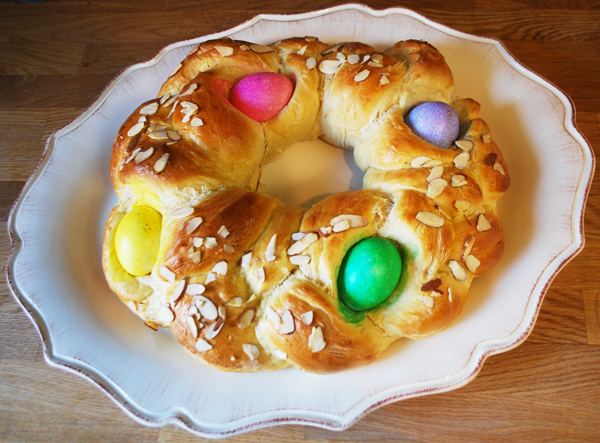 A festive, pretty and delicious Easter bread! Bring one of these to your church potluck or to serve with Easter brunch to add some interest to your table! It was an easy bread to assemble and dying the eggs was a fun project to do with my son on this rainy day. The bread was slightly sweet, light and airy, with a hint of lemon… a very tasty bread that goes with everything. I recommend serving with whipped honey butter or cheese and fruit salad.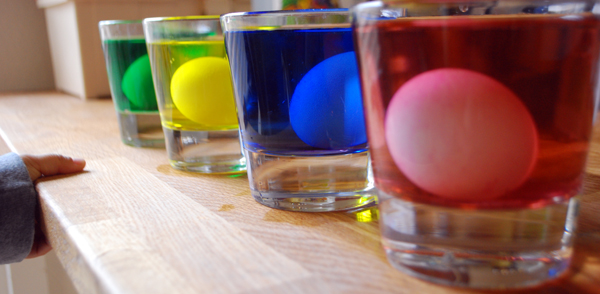 Dying the Eggs
(We left our eggs raw since they were to be baked into the bread.)
Mix 1 cup water to 1 Tbsp vinegar, and as much food coloring as you need for each color. My son gently dropped each egg into a glass and we let them sit for an hour to get a rich vibrant color. Take them out and let dry. Using a paper towel, rub them with cooking oil to make them more glossy.
Bread Recipe
3 tsp dry active yeast (about 1 1/2 packet)
1/3 cup light brown sugar
1 cup milk, warmed
4 1/2 cup all-purpose flour
1 Tbsp lemon zest
1 tsp salt
6 Tbsp butter, melted & cooled
1 tsp vanilla
4 eggs
4 dyed eggs
1 egg beaten with a splash of water (egg wash)
Almond Slices
Instructions
Mix the dry active yeast into the warmed milk and sit for 5 minutes.
Add everything up to and including the 4 eggs, into the bread machine.
Program dough setting and let the machine do the work (about an hour). This is a good time to dye the eggs (see above for how we did it). When the machine finished, I had left the dough in the machine to sit for another hour. When I came back, the dough was so poofy it raised the lid on the machine!
On a floured work surface take out the dough and knead, separate into 3 balls. Roll them out into equal long pieces and braid. Connect the 2 ends as best you can to complete the circle braid.
Take your 4 dyed eggs (non hard bolied as they will cook in the oven with the bread), and squish them into the braided dough.
Move the bread onto a greased baking sheet. Brush on egg wash. Sprinkle on some almonds. Bake for about 25-20 minutes or until golden brown.