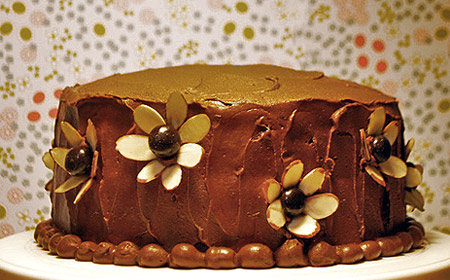 To welcome my husband home from a business trip, I made a yummy banana chocolate cake. In March, banana's are in season, and in this house… chocolate is always in season. I tested out some new recipes and slightly tweaked them according to user reviews and to accommodate what I had on hand. Of course the little guy wanted to help out so he was in charge of the mixing, scooping, and also the chopping (a.k.a "hammering") of the walnuts.


Preparation
Prepare your cake pan by coating with a cooking spray oil, then dust the pan with flour (about 1 Tbsp flour and gently shake it around the pan until its coated). This really helps release the cake when its done. Bake two 8″ round cakes; let cool. Spread frosting on top of one cake, place the other on top to fit. Then start frosting from the top down to the sides. Use hot water in a glass to occasionally rinse your frosting spatula, this will help get the frosting smooth.
For the decorative flowers I used almond slices and chocolate coated pomegranate (substitute with a chocolate coated anything).
Banana Cake
amended from A-Number-1 Banana Cake
1 1/2 cups all-purpose flour
1 cup cake flour
1 Tbsp baking soda
1 pinch salt
1/2 cup unsalted butter softened
1 cup white sugar
3/4 cup light brown sugar
1 tsp vanilla
2 eggs
1 1/2 cup mashed banana (about 3 large)
2/3 cup buttermilk
1/2 cup chopped walnuts
1/2 cup chocolate chips
Preheat oven to 350.
In large bowl, mix flours, baking soda, and salt.
In a mixer bowl beat butter and sugars. When fluffy, add eggs and vanilla, banana. Alternate adding flour mixture and buttermilk. Finally add walnuts and chips. Bake for about 30 minutes or until a toothpick is clean when inserted. Makes 2 8″ round cakes.
Chocolate Frosting
amended from Creamy Chocolate Frosting
4 cups confectioners' sugar
1/2 cup and 1 tablespoon unsweetened cocoa powder
1/2 cup butter softened
1/3 cup almond milk
1 tsp vanilla extract
Mix sugar and cocoa powder in a large mixing bowl. In Mixing bowl, beat butter until fluffy, then add dry mixture alternately with the milk. Add vanilla. If needed, add more sugar or milk depending on your consistency.