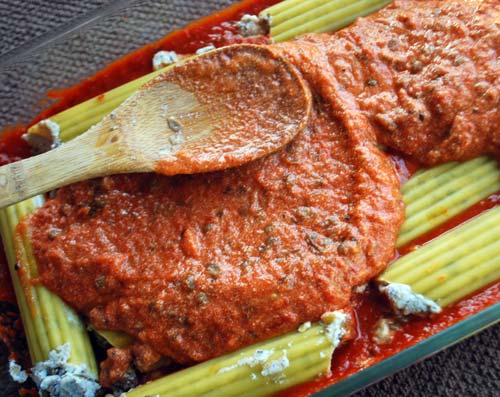 After our second son was born and we brought him home from the hospital, we were so grateful when a few of our friends cooked us some casseroles to make life a little easier. One of those dishes was this delicious mouth watering cheesy spicy manicotti dish.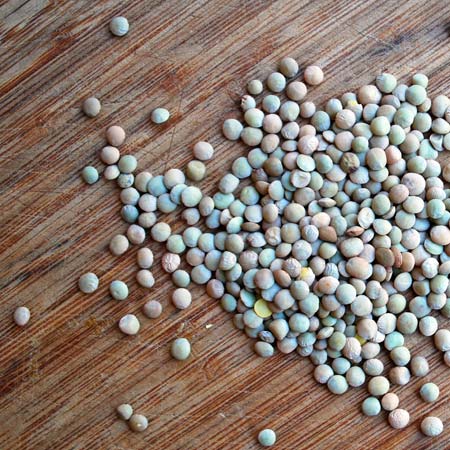 The lentils are simmered with spices for 30 minutes infusing them with lots of flavor.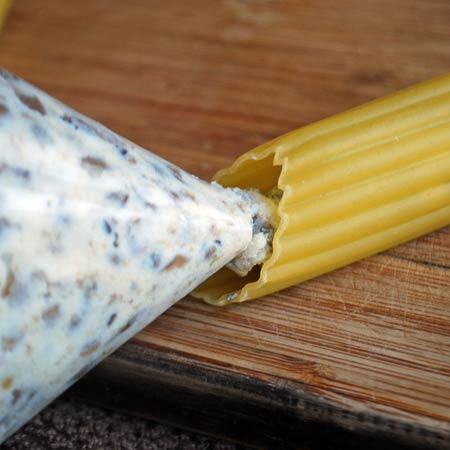 Once cooked, drain any remaining water and mix the lentils with ricotta cheese.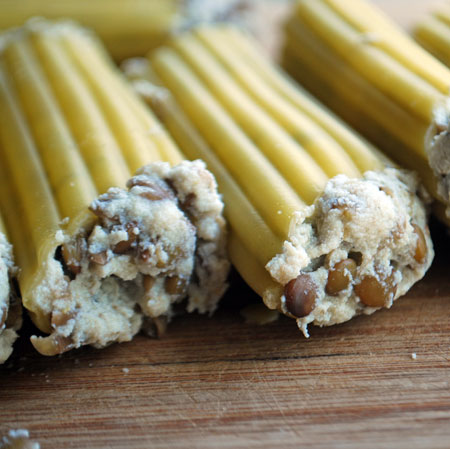 Ok are you ready for the secrets to filling manicotti?
(1) Do NOT precook the shells.. and I no don't mean go buy no-boil noodles (like lasagna), I just mean buy plain old manicotti shells and just do not boil them. Trust me.
(2) Pipe the filling in with a bag.
I used a large ziploc bag and clipped a small corner off to create a piping bag. Filling the shells took about 10 seconds each. Easy right?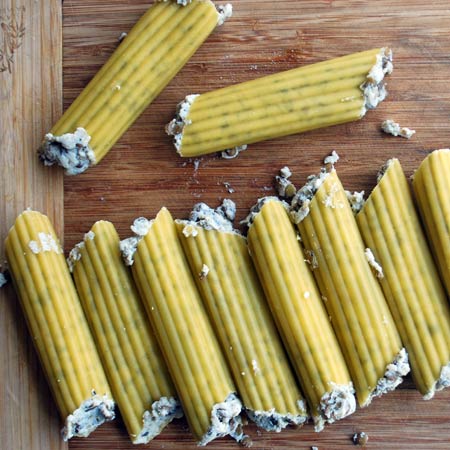 To assemble, use about half a jar of your favorite spaghetti sauce (I like RAO's homemade tomato and basil) and coat the bottom of a 9″ x 13″ baking dish.
Arrange your manicotti into uncrowded rows leaving just enough room for them to expand during baking.
Fear not, the left over filling does not go to waste! Just squeeze it out into a bowl and mix with remaining spaghetti sauce, then spread on top of the arranged manicotti in the casserole dish.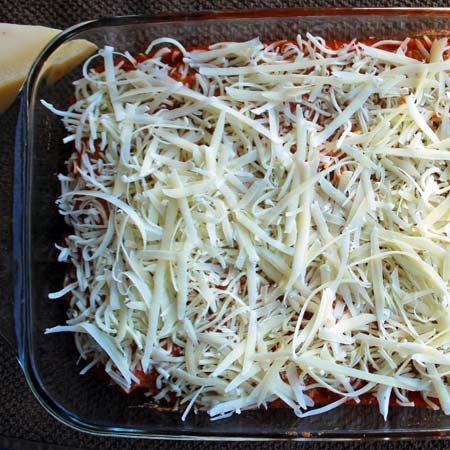 Top with roughly 2 cups of quattro formaggi cheese (or mozzarella works just fine too). Then shred fresh parmessan cheese (about 1/2 cup) to top.


Cover with aluminum foil and bake at 350 for 50 minutes. Tip: spray one side of the foil with cooking spray or olive oil and place that side down facing the cheese.. this will help prevent the cheese from sticking to the foil when its time to remove it.
After 50 minutes, remove the foil, turn up the heat to 400 and bake for another 10-15 minutes to lightly brown the cheese.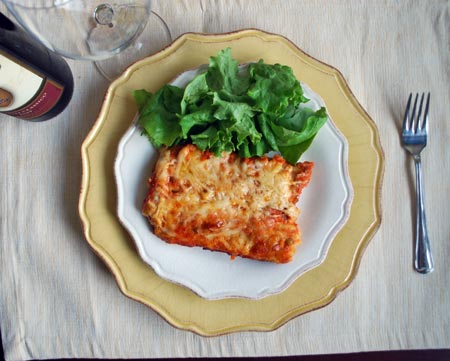 The spiced up lentils will give you some added protein and lots of flavor to this very simple dish. Vegetarian comfort food at its best!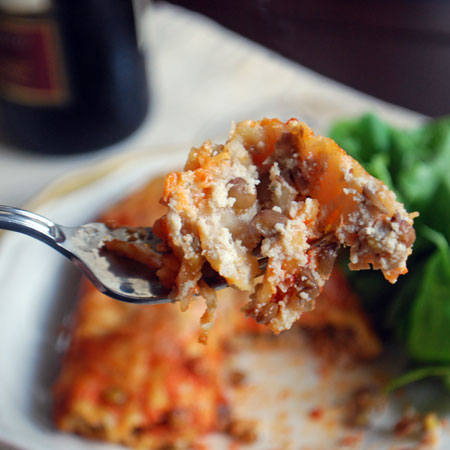 This is a great make ahead casserole. This serves about 6 people at 2 shells each. A perfect dinner for those cold nights ahead!
Cheesy Lentil Manicotti
Ingredients
12 Manicotti, uncooked
¾ cup dried lentils
3 cups water
1 bay leaf
1 teaspoon salt
¼ teaspoon cracked pepper
¼ teaspoon marjoram
¼ teaspoon sage
¼ teaspoon thyme
16 oz ricotta cheese (or cottage cheese)
1 28oz jar spaghetti sauce
2 cups quattro formaggio cheese, shredded (or mozzarella)
½ cup parmesan cheese, shredded
Instructions
In a large saucepan over high heat, bring the water, lentils, and all the spices to a boil. Reduce heat to a low simmer and cover. Simmer for about 30-35 minutes (they should be soft enough to eat but not complete mush).
Drain any remaining water from the pot, remove the bay leaf. Stir in the ricotta cheese.
Preheat oven to 350F.
Fill a piping bag with the filling. Pipe each manicotti shell with the filling, make sure you get the middle of the shell, be generous!
Any leftover filling, squeeze into a bowl. Stir half the jarred spaghetti sauce with with filling.
Coast the bottom of a 9"x13" casserole dish with half the jarred spaghetti sauce.
Arrange your manicotti into uncrowded rows (they will expand during baking).
Top with the filling/sauce mixture.
Spinkle with the cheeses.
Cover with foil, bake at 350 for 50 minutes.
Remove foil, turn up the heat to 400 and bake for another 10-15 minutes or until the cheese looks nice and golden and bubbly.
Let sit for a few minutes before serving. Enjoy!