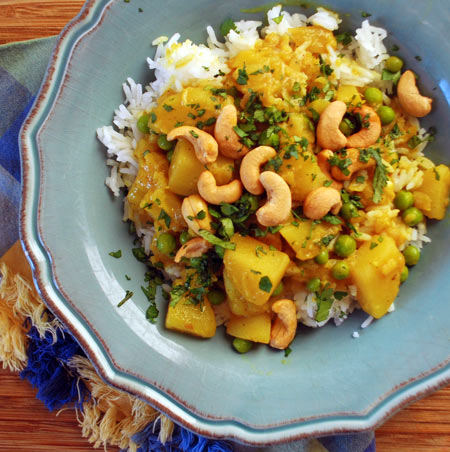 Unprecedented, I know. Back to back dinner entree posts for cakestudent.
(Where's the sugar?!)
Yep, and both are vegetarian. Hmmm, can you guess what my New Year's resolution is this year?

Well its not to go completely vegetarian… but we are making strides in that general direction. Maybe 1 meat dish a week. This one was so good, I got out the camera to take a few shots.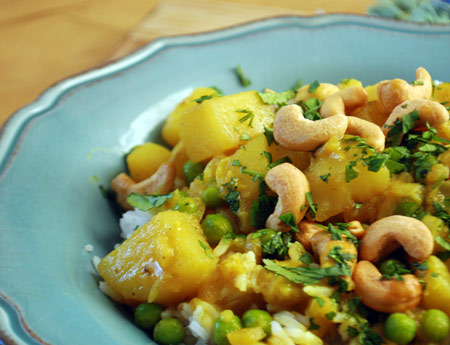 For some background information, my husband is Guyanese and grew up eating lots of delicious home cooked and spicy hot curries. I do fairly well when I follow my MIL's recipes (check out roti and halwa pudding). But this recipe I fished off the internet and modified to my liking. Shockingly, the man truly loved and so did the little men (ages 1 & 4). It was easy to make so I have to share. Hope you all enjoy it too!
Potato and Pineapple Curry
Cuisine:
Vegetarian, Vegan
Ingredients
4 cloves garlic
1⅓ cup water
1 tablespoon fresh ginger, chopped (or 1 teaspoon ground ginger)
2 tablespoons curry powder
2 tablespoons soy sauce
2 tablespoons sesame oil
2 tablespoons olive oil
1 medium onion, chopped
4 medium potatoes, chopped
1 cup pineapple, crushed
1 cup coconut milk
1 handful of frozen peas
Jasmine or Basmati rice
fresh cilantro (optional)
cashews (optional)
Instructions
Make rice per package instructions, set aside.
In a food processor or blender, combine garlic, ginger, curry powder, soy sauce, sesame seed oil, and ⅓ cup of water. Process until smooth.
In a large saucepan, heat oil over medium heat. Add the onions and potatoes. Heat until onions are translucent about 5 minutes.
Add the blended curry mixture to the pot, add the remaining water and bring to a simmer. Cover and simmer for about 15 minutes or until potatoes are soft but not mushy.
Gently stir in the frozen peas, pineapple, and coconut milk. Heat until warm and serve over rice.
Garnish with chopped fresh cilantro and cashews.