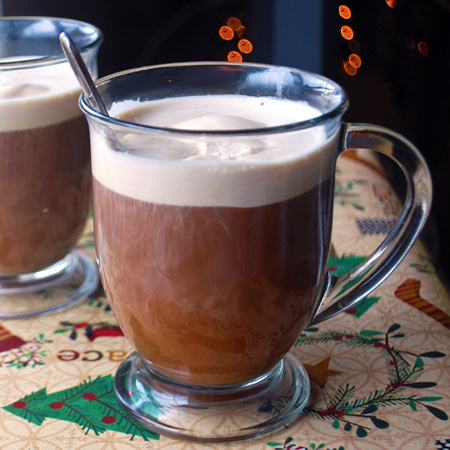 The first cup of coffee I ever had was in 5th grade Spanish class. My teacher brewed up some hot decaf coffee and served with a scoop of vanilla ice cream in celebration of a special Spanish holiday that I can't recall. I forgot the reason behind the celebration, but I never forgot that coffee. I'm pretty sure everyone just drank the creamy top.

This idea is pure genius. Since ice cream is really just cream and sugar, think of all the flavor combinations you can have… eggnog, peppermint, vanilla, carmel. Have left over candy canes and holiday cookies? Crush them up and sprinkle on top, finish with a shake of nutmeg or cinnamon.
I tried to research the name of this drink, but all I could find was "Café con Helado is spanish for coffee with ice cream". I think it sounds fancier when you say it in spanish, don't you?
Café con Helado
Ingredients
1 scoop of ice cream
1 hot steaming cup of coffee
Candy canes, ginger snaps, or sugar cookies, crushed (optional)
nutmeg or cinnamon (optional)
Instructions
Scoop your ice cream into a hot cup of coffee, add any toppings you like!