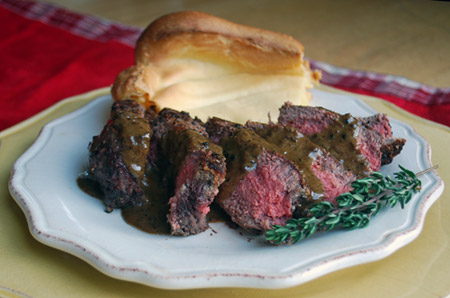 Cake Student got an early gift this year! The Certified Steak and Seafood Company sent me some beautiful slow aged 8oz Prime Filet Mignon hand cut steaks. It was amazingly tender (not chewy), full of flavor and super moist.

You know that moment in the Pixar film Ratatouille when the food critic, Anton Ego, takes a bite of ratatouille and is instantly taken back to the childhood memory of his mother? That is exactly how I felt when I took a bite of this steak forked with yorkshire pudding. It reminded me of my childhood holiday meals and I got that warm happy feeling as if I were suddenly surrounded by my whole extended family sitting at a beautifully decorated extended leaf table… okay I was at the little kid table with my cousins and siblings, but you get the picture. This meal is that good.
Certified Steak and Seafood Company also wants to continue spreading some holiday cheer with a fantastic coupon of $25 off your order! Coupon code: FBR125D
More from the sponsor:
Buttery Prime Angus Filet Mignon
If there was ever a steak that you will believe can "melt in your mouth" the Certified Steak and Seafood Prime angus Filet Mignon is it. With a delectable almost sweet beef flavor, and a strong buttery undertone that only Prime angus offers, it has to be tasted to be believed.
Each Prime angus filet is slow aged, custom cut and trimmed for consistency in color and quality. It is a flavor you will remember long after your meal is over. Great accompanied by grilled root vegetables and horseradish mashed potatoes.

The filet mignon kind of makes me nervous. It's not just any piece of meat, it's the crème de la crème of meat. The filet mignon. The most tender cut of beef and also the most expensive cut. I have never cooked one before and I didn't want to screw up.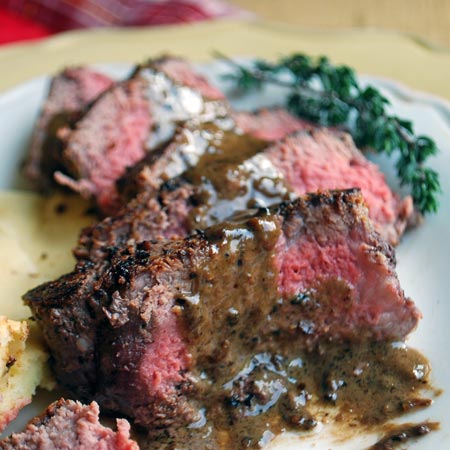 So cooking these beauties to perfection has become my end of year challenge, the final exam for my blog if you will. After relentlessly scouring the internet and watching an episode of Master Chef where the challenge was cooking 3 steaks in different doneness levels, I decided on pan searing followed by a short time in the oven. This method will help seal in the moisture of the meat and later, by deglazing the pan, you can prepare an amazing sauce.
TIPS:
Before cooking, bring meat to room temperature (about 45 minutes). This will ensure even cooking.
Don't overcook. This particular cut is served more rare than other steaks. The filet mignon should have a butter like consistency and to really enjoy it, cook medium-rare to medium. Overcooking will not only dry it out, but rob it of flavor.
Do NOT cut or poke the steak to test if it's done. This will dry out your meat. The natural juices will just pour out and ruin the day. So, how do you know if its done? Experience. Sigh. something I don't have yet. But fear not, there are some timing guides you can follow (see below).
Let it rest! After cooking just leave it be. This resting period is crucial and should last for at least 5 minutes. Why? Resting will let the juices settle and redistribute so that the juices don't run out when you slice into it.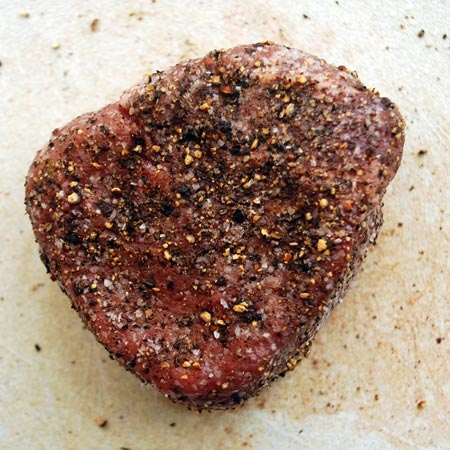 Season with kosher salt and fresh cracked pepper to bring out natural flavor. No fancy marinading required. This cut of meat is so good it is not necessary to mask the flavor with marinade.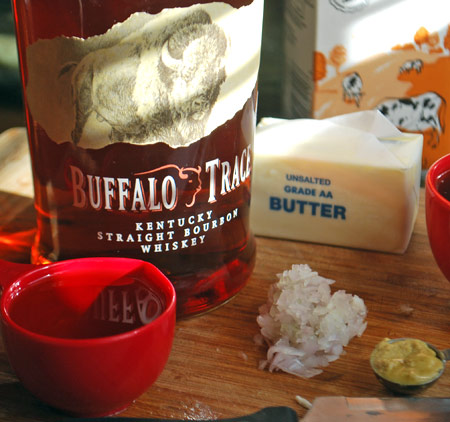 This whiskey sauce is powerful, just a little goes a long way so do not be alarmed by what little amount the recipe produces. If your sauce is slightly chunky and oily, simply add a touch more cream. Again, just a little is needed in your presentation, this is not gravy.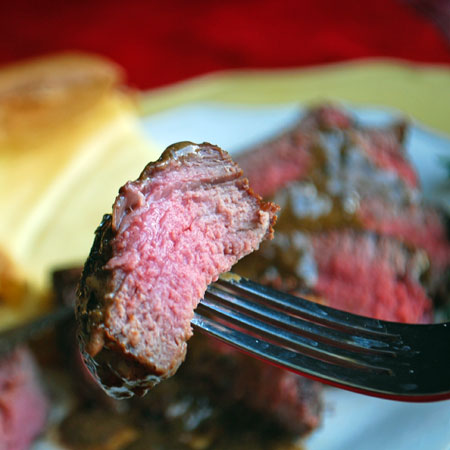 Enjoy your meal! Go ahead, crack open that nice bottle of wine you have been saving and have a lovely meal with someone special.
Happy Holidays, may it be a peaceful time for you and the ones you care about!

Filet Mignon with Whiskey Sauce
Recipe type:
Filet Mignon with Kentucky Bourbon Sauce
Ingredients
2 8oz Filet Mignon
2 tablespoon butter
Kosher salt & fresh cracked pepper for seasoning
1 tablespoon shallots, chopped
½ cup beef broth
¼ cup Whiskey Bourbon
⅓ cup heavy cream
½ teaspoon dijon mustard
Instructions
(Let your meat sit at room temperature for at least 30 minutes, until beef is no longer chilled.)
Preheat oven to 400F.
Season the meat with salt and pepper to your liking, on all sides.
Heat your skillet over medium high heat. Once hot, add butter. Once butter is melted, pan sear your filet mignon for 4 minutes each side. Add a little butter and swirl the juices around in the pan before you flip, and only flip once. Then transfer to the oven for additional cooking. About every 2 minutes will be an increment in the leve of doneness (again this is for an 8oz filet).
2 minutes in oven - medium rare
4 minutes in oven - medium
6 minutes in oven - medium well.
Also, you can touch the filet to see how tough it feels (see details about the Finger Test).
Remove from oven and let it rest for at least 5 minutes (no poking, prodding or cutting!).
Reserve about 1 tablespoon of the drippings for the sauce, anything more keep for use in your yorkshire pudding.
Sauce: Heat the shallots in the skillet with the drippings for a few minutes until soft. Carefully add the broth and bourbon. Bring to a gentle boil, boil until reduced the liquid is reduced by half. Add cream and mustard, heat until the sauce has thickened. Remove from heat.
Note – This sponsorship is brought to you by Certified Steak & Seafood Company whom we have partnered with for this promotion. However, all opinions about the product are all my own!
About the Sponsor:
Our commitment to our customers is simple: Offer the highest quality products at the best price and back it with a 100% guarantee. We source directly with no 'middle man' making our supply chain the shortest in the industry. This allows us to maintain the highest quality standards all the way to your plate. On top of this, we sample all products at the moment of final packaging and have a world-renowned laboratory test for various types of adulteration or contamination. This ensures that the food you purchase from us is pure and safe.
Certified Steak and Seafood Company was formed by the three Frisch boys, Mark, Adam, and Steven; all of whom thought that everyone should be able to buy the highest quality steaks and seafood direct. The brothers experience comes from a three generation family owned wholesale company that is one of the largest seafood importers in America.
They have vast experience in sourcing and selling high quality seafood and meat products to the commercial trade — and bring you the same grade of products fine restaurants, resorts, hotels, and high-end retail stores demand – and at a direct price that gives you tremendous value for every purchase.
Visit the Certified Steak & Seafood website! Use coupon FBR125D to get $25 off your order.
Vist Certified Steak and Seafood via facebook, twitter, or pinterest.