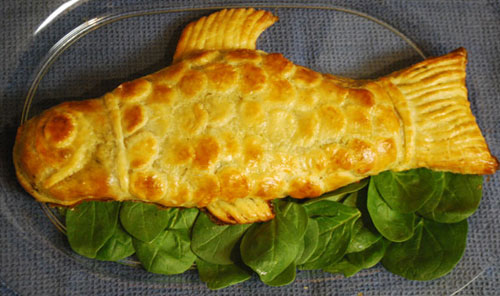 I have been on a recent kick of making our usual food dishes into something more fun and pretty to eat. It makes my family a little more happy when they sit down at the dinner table. We try to eat one seafood meal a week so this time I tried decorating with puff pastry.
I chose a recipe by Rachel Ray called Salmon En Croute. Since it's dinner for 2 and one toddler in this house… I halved the recipe, used 1 sheet of puff pastry. I also made a few ingredient changes, including a generous helping of chopped fresh spinach instead of the parsley. Rather than making individual portions, I created one large family style puff pastry fish. This dish was extremely tasty, thank you Rachel Ray! I will definitely be making this one again.
My 2 year old son also had a blast watching me build this fish. He helped with cutting out the circles for the scales and absolutely loved "painting the fish" with the egg wash. Overall, it took about 15 minutes to assemble (after preparing the ingredients).


* Note – I cut this recipe in half to serve 2, here is the recipe to serve 4:
Recipe
Salmon En Croute adapted from Rachel Ray
Ingredients
1 Tbsp olive oil
4 chopped green onions
1/2 pound mushrooms chopped
1 tsp dill seasoning
1/2 cup fresh spinach, chopped (eyeball this to your liking)
Juice of 1/2 a lemon
2 Tbsp Dijon mustard
2 hard boiled eggs, chopped
Salt and pepper to taste
4 6 oz salmon filets, skin removed
2 defrosted sheets of frozen puff pastry, 11 x 17 inches
1 egg beaten with a touch of water
Preparation


Heat oil in a non-stick skillet over medium heat. Add green onions and mushrooms, a little salt and pepper. Sauté for 10 -15 minutes. Remove from heat, add to a mixing bowl along with dill, spinach, lemon juice, mustard, hard-boiled chopped eggs, salt and pepper. Mix.
Wipe out the skillet you just used and return it to medium high heat with a drizzle of oil. Season salmon with salt and pepper, and then sear for a few minutes on each side. Remove skillet from the heat.
To Assemble
Preheat oven to 425°F.
Roll out the thawed pastry dough on a floured surface.
Cut and arrange the salmon into the general body and head shape of the fish onto the dough. Top the salmon with the filling mixture to help make a smoother surface. Wrap in dough, cut off excess dough, smooth edges. Move to greased cookie sheet.
With the remaining dough, shape the tail and fins. Put into place.
Use a bottle cap to cut out several circles for the scales. Starting at the tail end, position circles. Keep layering going up toward the head.
Add small details… I cut out thin dough strips and layered them onto the tail and fins to make them thicker and more realistic.
Brush with egg mixture.
Bake for 10 to 15 minutes, or until golden. Enjoy!