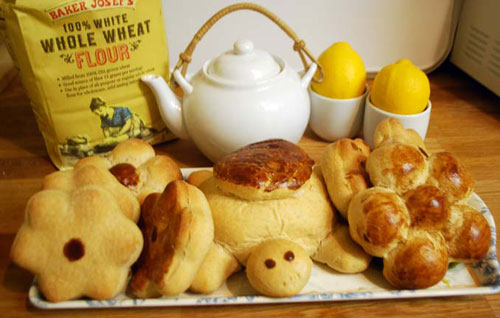 We live in the bay area and when sightseeing in the city we love to go by the Boudin shop window to check out the incredible sour dough breads on display in the shapes of all sorts of animals. I have always wanted to try it out myself, I mean how difficult can it be? I found out not very, but it will take LOTS of practice before my bread creations start looking like Boudins! I also found some cool examples on the web regarding bread painting (specifically by Chef Tess), so I incorporated that technique into this experiment as well. Overall, I'm pretty satisfied with the fun creations I was able to turn out!


First step, I got out the bread machine and after some research on recipes, concocted my own for honey wheat bread. I let the bread machine do the hard work of kneading and setting the right temperature for rising. When the dough was ready I took it out and started to have some fun. The dough, to my great surprise, was really easy to work with.
I tried 3 different shapes:
simple cutout flowers.
small hand rolled balls to form a flower.
hand shaped turtle (to delight my son).
Next, I mixed up some natural brown food dye using 1 egg yolk and very little unsweetened cocoa powder. Using a new paintbrush (or one reserved exclusively for cake decorating), I let my artistic side shine and brushed on some brown paint! This is where the practice would be handy. Getting the right dye and practicing my brush strokes could change a cute final product into something really awesome.
Finally baked it for 10 min at 400, let them cool, spread with some butter and a little honey… yum yum yum! These are delicious!
Recipe for Honey Wheat Bread
Ingredients
1 packet active dry yeast (.25 oz)
1/4 cup warm water
1 cup almond milk
1 egg
2 Tbsp sugar
2 Tbsp honey
2 Tbsp shortening
1 tsp salt
2 cups all purpose flour
1+ cup whole wheat flour
Directions
In bread machine container, dissolve yeast in warm water for about 5 minutes.
In separate bowl, whisk milk, egg, sugar, honey, shortening, and salt. Then add to the yeast mixture in the bread machine container.
Now add the all purpose flour and 1 cup wheat flour. Turn on the bread machine and set to the dough setting (prepare your dough but not bake it) to start the mixing. After a few minutes when the dough takes a more solid shape, eyeball adding the remaining wheat flour until the dough is nice and soft looking. (This was about another 3/4 cup for me.)
When dough is finished (about 1 1/2 hours), preheat oven to 400. Take out the dough, give it a good punch, then shape whatever you like! (If you are doing the painting, this is the time to brush it on.)
Bake for roughly 14 minutes or until golden.
Enjoy!