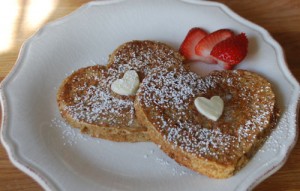 Heart shaped cookie cutters can do more than just make cookies in February, use them year round to make a special breakfast for the ones you love most.
Sometimes I wake up to both a grumpy toddler and a grumpy husband, so when I made these french toast hearts for breakfast yesterday it completely changed the overall mood in our home.
I reused the Linzer heart shaped cookie cutter center for the butter cutout, and a larger heart cutter for the bread. The bread scraps don't have go to waste, I just make small french toast strips.
My favorite fluffy french toast recipe.