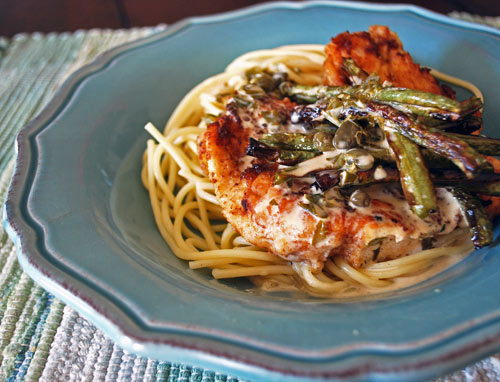 We moved last February and our new house has fruit trees in the back, including a lemon tree. That tree is the one thing I never knew I always wanted. That beautiful lemon tree that gives us amazing juicy huge lemons. Needless to say, I haven't been letting them go to waste, I make this dish probably once a week, we love it so much we practically lick the sauce from our plates. It's that good.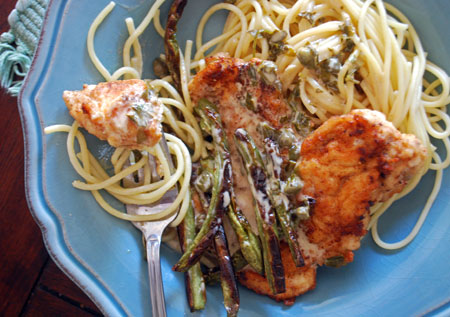 The recipe comes from the Pioneer Woman, one of my favorite bloggers ever. She has an awesome tutorial on how to cook this meal, so really the reason I wanted to blog about it too is because.. because… it is just too good not to share. Also, I do make some adjustments. Basically I add more green stuff. I use capers, more parsley, and I started adding roasted green beans to offer a crunchy vegetable in the dish.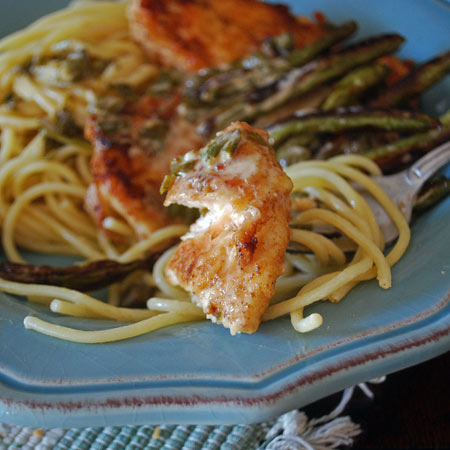 If you love a tangy lemon chicken dish then this just simply can't be beat. Enjoy!

Chicken Picatta with Roasted Green Beans
Ingredients
4 boneless chicken breasts
kosher salt
fresh ground pepper
4 tablespoons all-purpose flour
5 tablespoons butter
4 tablespoons olive oil
1 cup dry white wine
¾ cups chicken broth
2 fresh lemons
2 tablespoons capers
¾ cup heavy cream
Chopped Fresh Parsley
1 package spaghetti
Roasted Green Beans
1 package of green beans, trimmed
olive oil
kosher salt
Instructions
Roasted Green Beans
In a large bowl, toss your green beans with a little olive oil, spread onto a large baking sheet so all beans are touching the sheet. Sprinkle with a little kosher salt and then broil for about 15 minutes. Keep an eye on them and turn once half way through. They should be nice and browned and crispy. Remove from oven and set aside.
Chicken Picatta
Boil up a large pot of water and cook your spaghetti according to package directions. Set aside.
On a cutting board, set your chicken breasts down and lay some plastic wrap on top of them. Pound out your chicken breasts to an even thickness.
Season the chicken with a little salt and pepper. On a plate, dredge them in the flour.
In a large skillet heat the olive oil and butter over medium high heat.
Brown your chicken breasts until golden, about 3-4 minutes on each side flipping only once. Once no longer pink inside, remove from heat and set them on a plate.
Now make your sauce! Add the chicken broth, wine, and lemon juice to deglaze your hot pan. Use a spatula to scrape up all the good leftover browned chicken bits. Then reduce heat to medium and cook until liquid is reduced by half.
Lower heat to low and add capers and heavy cream. Stir and wait a few minutes for the sauce to thicken. Add parsley. Finished!
To serve
Put some spaghetti on a dish, top with chicken, roasted beans, then cover in your sauce. Alternatively, serve the beans on the side to keep them super crispy.