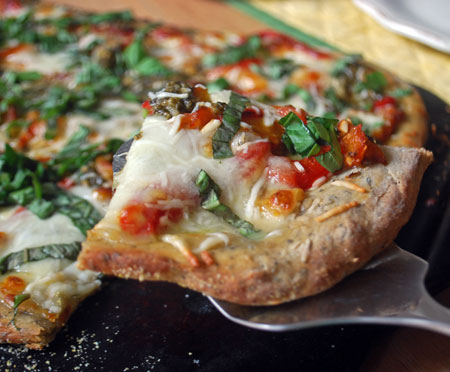 You want a piece of this?
Yep me too. I want the whole pizza pie.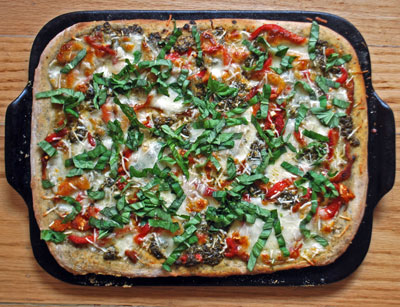 I make this roasted bell pepper and basil pizza all the time during the summer months when peppers are in season. It's actually a healthy option for pizza full of vegetables and packed with flavor. My whole family loves it.


I roast the peppers myself but jarred peppers work well too especially if you are in a hurry. But fresh roasted bell peppers just can't be beat and it's easier than you might think. For this pizza I use a variety of red, yellow and orange to make the pizza colorful. Here are the steps:
1. Slice them in half, remove the stems and seeds. Lay them down flat onto a baking sheet with skin side up. Using the palm of your hand, flatten the pepper so more surface area is exposed to the broiler. Rub just a little vegetable oil on the tops.
2. Broil in the oven for 15-20 minutes, until the skins are are charred.
3. Carefully place peppers into a plastic bag and seal, or into a bowl and cover with plastic wrap. This will allow them to steam.
4. When cooled to room temperature and you can handle the peppers safely with your hands, gently peel off the charred skins.
5. Slice them up.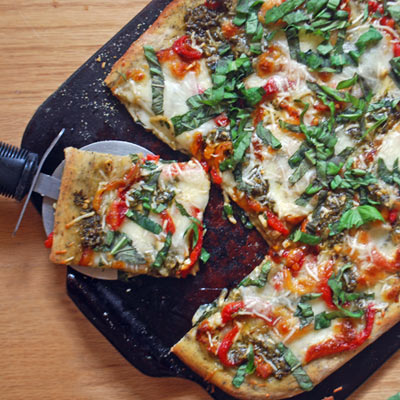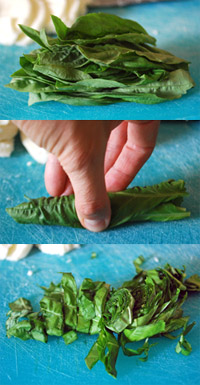 This pizza has no red sauce, just dollops of basil pesto, roasted peppers with some fresh mozzarella cheese, and after baking it's topped with some fresh basil cut into ribbons.
Cutting basil ribbons is very easy.
Simply stack the fresh basil leaves into a single stack.
Then tightly roll as best you can.
While holding the roll with one hand, slice with the other. Wallah, beautiful basil ribbons.
A great pizza starts with a great crust. I use to avoid baking pizzas at home because my crust would come out soggy and undercooked, especially in the center. But the trick to getting a perfect crust is actually in pre-baking.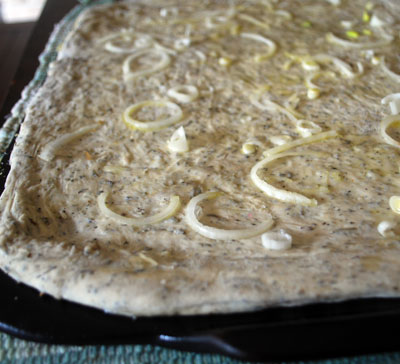 First, brush the baking pan (I use a baking stone) with some oil and sprinkle with cornmeal. Then roll out your dough onto the pan. Optionally, lay some thinly sliced onions onto the dough and brush it all with oil. Now pre-bake the crust for 10 minutes. Remove from oven and add your pizza toppings.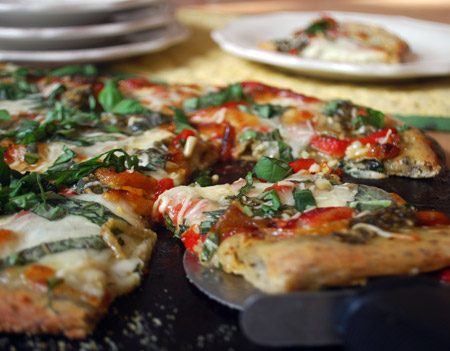 Roasted Bell Pepper and Basil Pizza
Ingredients
2 tablespoons olive oil
cornmeal for dusting
pizza dough, enough for 1 pizza
½ yellow onion, sliced
3 Fresh Bell Peppers, roasted and sliced (see steps above) or 1 jar of roasted bell peppers
3-4 cloves garlic, diced
¼ teaspoon kosher salt
¼ cup pesto
4 oz fresh mozzarella
¼ cup fresh parmesan cheese, grated or shredded
fresh basil, sliced into ribbons
Instructions
Roast your peppers. (While peppers are cooling, start your crust.)
Preheat oven to 450F.
Brush baking stone with oil. Sprinkle the stone with cornmeal.
Roll out your pizza dough and place onto the stone.
Lay the onions onto the dough.
Brush with oil.
Bake for 10 minutes.
Meanwhile, slice your peppers and toss them in a bowl with garlic and salt.
When the crust is ready, remove from the oven and top with the pepper mixture. Next, spoon on dollops of basil pesto, lay on slices of fresh mozzarella.
Bake for about another 8 minutes until the cheese gets a little bubbly and the crust is golden.
Remove from oven, top with parmesan cheese and basil. Serve.