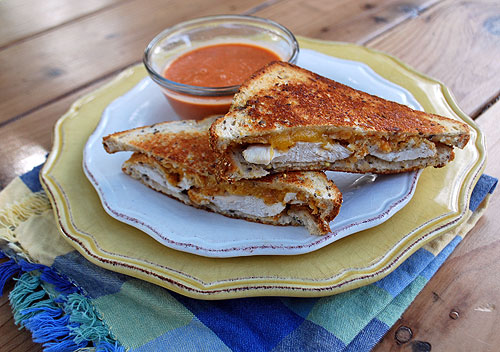 In Rochester, NY there is a small college with a small cafeteria that has a small hot grill. This small hot grill served up some decent hot sandwiches and burgers when I was a student… but their specialty was something not on the menu. It was a small secret and you had to know to ask for it.
A sandwich called the chicken finger melt.

It must have been requested by a student at one point or other, and then became so popular the grill folk started to make these upon request. But I have never seen anything like them served anywhere else in any other establishment. They are so insanely good I can't understand why not, but I have made them for years in my own kitchen and now my kids enjoy them too.
Dip them in ketchup or serve them with home made tomato soup. My favorite tomato soup recipe is easy and delicious and tastes nothing like the yucky canned stuff. (Post coming soon).

Chicken Finger Melt Sandwich
A hearty grilled sandwich.
Ingredients
1 to 2 chicken fingers per sandwich. (I use frozen fully cooked crispy chicken strips), hot & cooked.
cheddar cheese, sliced
hearty whole wheat bread
butter
Instructions
Cook the chicken fingers/tenders/strips per package directions. If using a thicker chicken strip, slice in half lengthwise to make them a bit flatter and you can make more sandwiches too).
Sandwich the chicken and a slice of cheddar cheese with 2 pieces of bread.
Butter the outside of your sandwich and pan cook over medium heat on a non-stick skillet until golden and toasty and the cheese has melted. Serve hot, with a side of tomato soup or dip in ketchup.