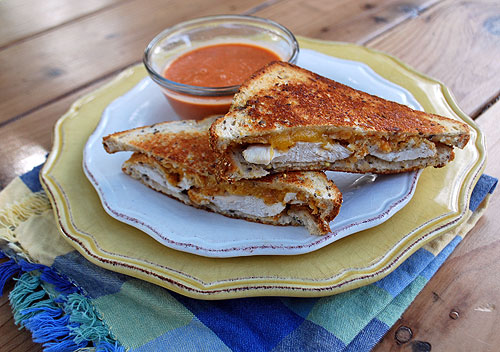 I know I've been slacking, but I do have a good excuse. I had my own little bun in the oven and he was ready to come out. I am now a proud momma of 3 wonderful little boys. Two of which have been living off of tomato soup and grilled cheese sandwiches.

If you need a quick to make dinner idea, this soup is for you. Super easy and super delicious. Even I, in my current state of utter exhaustion and dressed in the same shirt I was wearing 2 days ago and smelling like sour milk, can make this dinner in a snap.
ps- goes great with my last post, Chicken Finger Melts.
Variations:
Spice it up by adding a few jarred roasted bell peppers to the pot with the tomatoes.
Add a dollop of basil pesto to the bowl when serving.
Easy Delicious Tomato Soup
Quick and easy way to make delicious home made tomato soup that greatly outshines the canned stuff!
Ingredients
1 (14.5 oz) can diced tomatoes
1 (14.5 oz) can of garlic/basil/oregano seasoned diced tomatoes
chicken broth or mix water & chicken bouillon (enough to fill 2 of the empty diced tomato cans)
6 fresh basil leaves (optional but wonderful)
⅓ cup of heavy whipping cream
Instructions
Pour both cans of diced tomatoes into a medium sized pot. Use the empty can to measure out 2 cans worth of chicken broth and add that to the same pot.
Bring to a boil.
Add basil leaves, lower heat, cover and simmer for 20 minutes.
Remove from heat, blend using a hand blender until smooth.
Slowly add the heavy whipping cream and stir. (Depending on your preference, add more or less to change the creaminess).