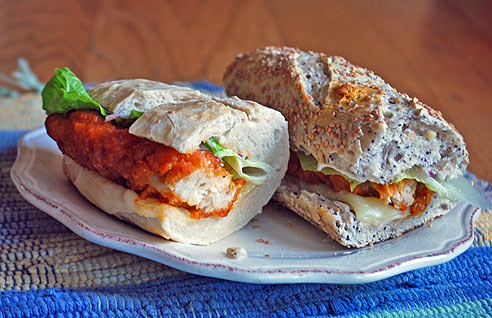 These mouthwatering buffalo chicken sub sandwiches are a delicious way to enjoy buffalo chicken without the bones. A restaurant in our hometown makes these extremely popular subs, but I haven't seen anything like them outside of the Buffalo area.

To make these I highly recommend getting Frank's RedHot Sauce, nothing comes to close to it. The recipe calls for frozen breaded chicken and I know how very tempting it would be to reach for the "Buffalo flavored" frozen chicken, but believe me… it's absolutely not the same at all. PLEASE. Use Franks! Its the only way to make this sub!
Another tip – if you can find the par-baked sub rolls they taste the best. Those are the kind you finish baking at home and it takes about 7 minutes in the over before they are nice and toasty. Having the bread nice and warm will help melt the provolone cheese.
This is a fantastic sandwich for Super Bowl Sunday, simple to make and everyone is guaranteed to love them.
More ideas for game day:
Peach and Gorgonzola Pizza
Mozzarella and Black Olive Minestrone Soup
Roasted Bell Pepper and Basil Pizza
Spicy Thai Chicken Wraps
Super Bowl Turkey Chili
Home made potato chips
Sesame Chicken Pasta Salad
Home made Soft Pretzels
Football Deviled Eggs
Authentic Buffalo Chicken Wings

Buffalo Chicken Sub
Ingredients
4 frozen breaded chicken breast tenders
½ cup Frank's RedHot Original Cayenne Pepper Sauce
½ cup butter, melter
sandwich submarine rolls (french, sourdough, whole grain, whatever you like!)
blue cheese salad dressing
provolone cheese, sliced
red onion, sliced
lettuce
Instructions
Bake the chicken according to package directions, turning once.
Mix together the hot sauce and butter in a large bowl.
Remove from the chicken from the oven and toss them carefully in the sauce mixture.
Prepare the sandwiches by generously spreading blue cheese on each side of the roll.
Lay the cheese on both sides of the roll.
Add the hot chicken (this will help melt the provolone).
Add onions and lettuce. Serve!