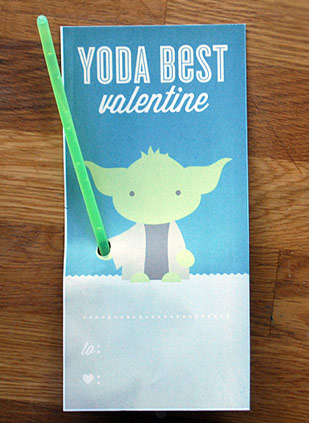 This year both my boys are in love… and I mean in LOVE with all things Star Wars. 5 and 2 years old and no, they aren't familiar with the movies, it's all thanks to Legos and it so happens playing Star Wars is the hot thing to do on the playground these days. So of course they wanted Star Wars Valentine Cards, but especially for my 2 year old I wanted to keep it very kid friendly.
Thanks to a really talented blogger at Design.Wash.Rinse.Repeat. I found the perfect card. Yoda Best! She offers the card as a freebie download, they are easy to print out and assemble.
I'm just hoping the kids can hand them out without cracking the glow sticks!
To get the freebie, click here for the original blog post.