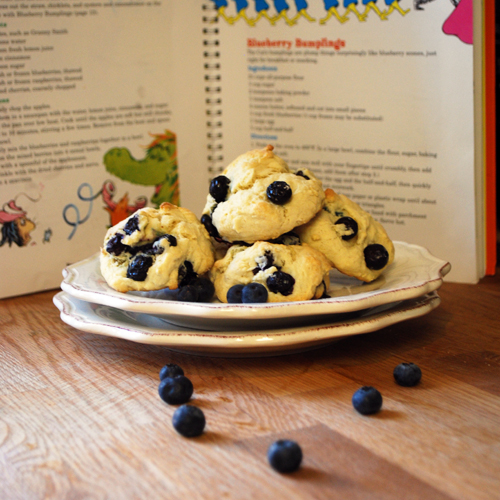 Donuts, dumplings, blueberry bumplings, chocolate mush-mush, super sweet.
Clam stew, ham stew, watermelon wush wush, Oh, the stuff that I could eat!
From The Cat in the Hat Songbook
Start your day the Dr. Seuss way! All you little ducklings, have some blueberry bumplings, for breakfast or snack, to give you that perfect quack. I checked out the Green Eggs and Ham Cookbook from the library and we had a great time testing out some of the recipes. If you haven't heard of this cookbook, its a perfect one for cooking with kids and all the recipes are based on a Dr. Seuss excerpt.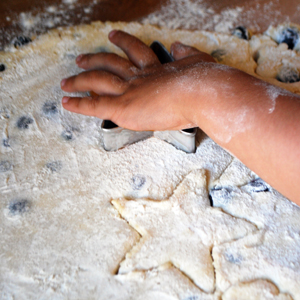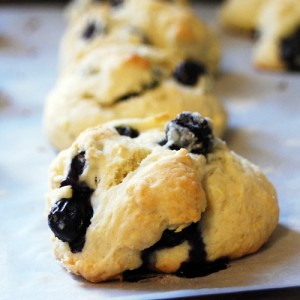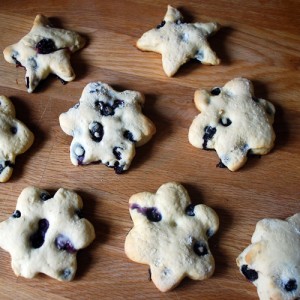 Blueberry Bumplings is probably our favorite recipe in the book, its become a staple in our home. We like to make them for our weekend breakfast. They taste similar to scones and are very airy and they are the best when the blueberries are still warm and gooey. One change I made, and would recommend: triple the amount of blueberries. The original calls for only 1/2 cup. We use 1 1/2 cups because the blueberries are the best part and we want at least one in every bite.
Recipe: Blueberry Bumplings
Summary: Adapted from the Green Eggs and Ham Cookbook by Georgeanne Brennan
Ingredients
2 1/4 cup all-purpose flour
1/3 cup sugar
2 tsp baking powder
1/4 tsp salt
1 stick butter softened (1/2 cup)
1 1/2 cup fresh or frozen blueberries
1 large egg
3/4 cup half-and-half
Instructions
Preheat oven to 400F. Prepare cookie sheets with parchment paper.
In a large bowl, combine flour, sugar, baking powder, and salt.
Add butter and mix with fingertips until crumbly.
In a separate small bowl, whisk egg and half-and-half. Quickly pour into the dry mixture and stir to combine, but don't overwork. Then stir in your blueberries.
Now you can either just lump them by the spoonful onto prepared baking sheets, or cut them into shapes. To do the shapes: lay the dough between 2 wax paper sheets ( I used flour on top the wax paper to help from sticking). pat down to about 1/2 inch thick. Remove top wax paper and use cookie cutters to cut out shapes.
Place on prepared cookie sheets.
Bake in oven for about 10 minutes until golden on top.
Preparation time: 15 minute(s)
Cooking time: 10 minute(s)
Number of servings (yield): 12