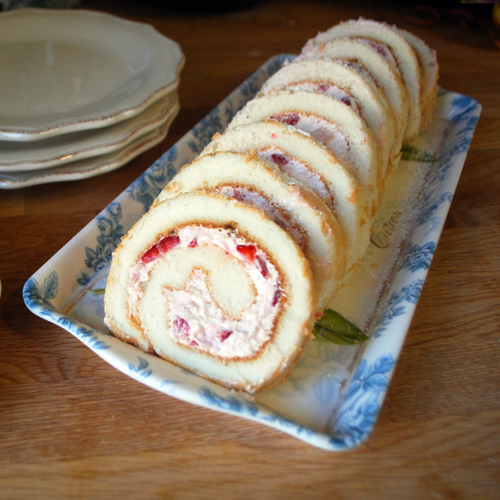 We are celebrating over here in the cakestudent household because I got my first product promotion! Yay! Dannon has asked me to sample their new line of Activia Selects French and Greek yogurt. And, boy was I happy to do it!
So, cakestudent fans, I'm excited to announce that you can join us in the celebration… Visit the Activia Selects Facebook page to get your FREE coupon now! Take it with you to any local super market to redeem. Let your friends and family know… the coupons are available only until August 15th… so spread the cheer!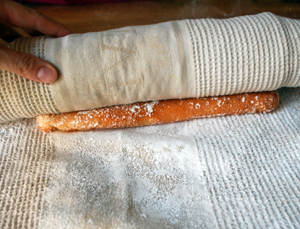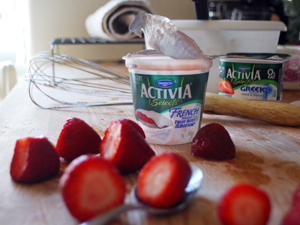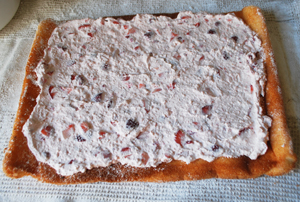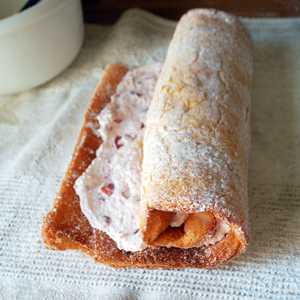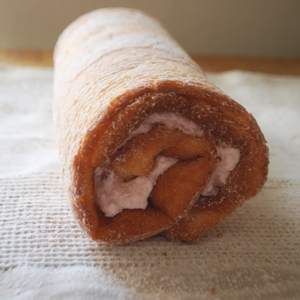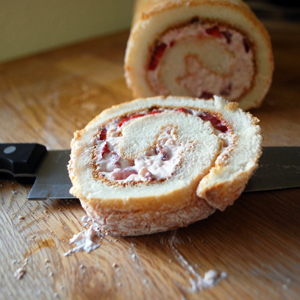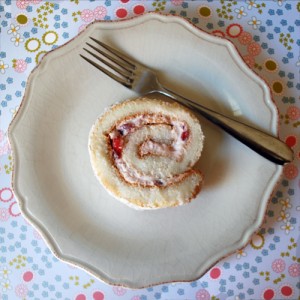 The challenge for me… what to make that could showcase this yogurt? Well, usually we just enjoy our yogurt right out of the cup, sometimes dipping fresh strawberries into it. I have also used strawberry yogurt in smoothies, popsicles, baked it in cakes and muffins. But for this task, I decided to go with a recipe that really honors my original intent for this blog… to be a student of cakes. I have never made a roll cake before, and I thought it was a good time to try. The beauty of this recipe is that the yogurt isn't baked in the batter, but rather its used as a filling after the baking process… so you can really taste the yogurt.
Roll cake, A.K.A swiss roll, A.K.A jelly roll… this cake was thought to be created over a hundred years ago somewhere in central Europe. There must be a reason it's lasted so long. After creating it in my own kitchen I found out why, it's really fun to make! The final product is attractive, it was easy to make, cleanup was a breeze, and its a light delicious summer dessert. Since it is set in the freezer, the creamy yogurt filling is very cold and the angel food cake is still soft and airy.
I tested out the Dannon Activia French Strawberry with chunks on the bottom, and Strawberry flavored thick & creamy Greek. Both were good, but if I had to choose my favorite it would have to be the Greek (I really love the creaminess). The chunks of strawberries in the French yogurt lended itself nicely to this cake filling. It was only a 6 oz container, so I added a few spoons of the Greek and also chopped up about 1 cup worth of fresh strawberries and added it to the filling. Then when I finished, I sat back and polished off the Greek yogurt as my reward.
This cake is definitely a keeper, great for a dinner party. It just presents so nicely, and its a very light treat to offer after a full meal. So easy to make you can't really mess it up. Well, it was almost perfect… I did learn a lesson from my first attempt: when prepping the rolled cake to go into the freezer… you mustn't wrap with plastic wrap because the golden outer layer will peel off in bits when you take it out to serve. Instead, just keep it in some kind of covered container while its freezing. However this mistake was easily concealed by sifting powdered sugar on the top.
Note: The recipe called for a jelly roll pan, I didn't know if I had one or not. After some digging on the internet I found out I could use my cookie sheet measuring 15.25 x 10.25 x .75 in. I didn't use all the cake batter because it wasn't 1″ deep and I wanted to avoid an overflow. So I filled it to the rim and then put the leftover batter into a muffin tin and made 6 cupcakes.
Ingredients
1 (16 oz) box of Angel Food cake mix
5 tsp confectioners sugar
1 (8 oz) non-fat strawberry yogurt
1 (1 oz) package instant sugar free white chocolate pudding mix
2 cups Lite whipped topping
Instructions
Set your oven rack to the lowest level. Preheat the oven to 350C.
Line Jelly Roll pan with waxed paper. Place a clean kitchen towel on your workspace, dust with the confectioner sugar.
Make the Angel Food cake according to package directions.
Pour into the prepared pan and level it with a spatula. Bake for about 15 minutes, or until golden. Let cool for 5 minutes.
Flip cake onto the prepared kitchen towel dusted with the sugar and very gently peel off the waxed paper. Roll up jelly-roll style in the towel, then place the whole thing on a wire rack to cool.
While cooling, whisk the yogurt, the pudding mix in a bowl. Then fold in your whipped topping.
Unroll the cake and spread filling evenly over the cake. Roll it back up (without the towel!). Place it into a covered container and freeze it for at least a few hours. When ready to serve, remove and let thaw for about 30 minutes before slicing.
Preparation time: 20 minute(s)
Cooking time: 15 minute(s)
Number of servings (yield): 8
This sponsorship is brought to you by Activia Selects who we have partnered with for this promotion.
FREE coupon offer good 8/3 /11 – 8/15/11, up to 1 million coupons, on any Activia Selects Single Serve, up to $3.00. One coupon per household. Offer valid in the U.S only. VOID IN LA, NJ, CA. Coupon valid until 8/15/11.
Residents of LA, NJ, CA will be given a '$1 off 3 Activia Selects' coupon.