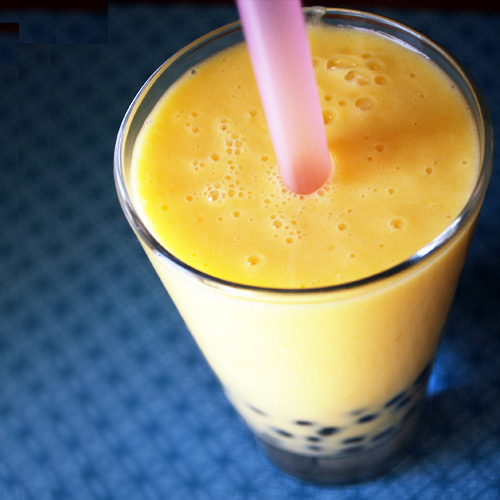 Fruit meets floral with this mango jasmine bobalicious beverage. This was a cool and creamy treat, and since lately we are enjoying ice cream with basically everything (morning coffee!), we threw a scoop right into this too which made it more like dessert.
If you read my past post on Thai Bubble Tea, you read how bubble tea got its name from when the Chinese street tea vendors would shake up some fruit with tea to create a bubbly beverage. They did this to entice the school children over to their tea carts. They were right, the fruity smoothie was quite bubbly.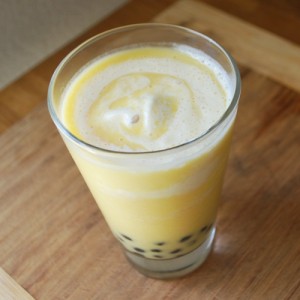 Although I enjoyed this drink, it doesn't feel like you are drinking tea. I find it on the same level as all the sweet additions to some of the fancy coffee drinks available at Starbucks. While delicious, they kind of take away from the original coffee. Ultimately, I could have this drink with or without the tea, it just adds a little Jasmine flavor. I would call it more of a Mango smoothie than a tea.
Next time I might add a little more milk or more tea to lighten the drink. I noticed that the tapioca kind of float around the bottom rather than just stay at the bottom. It didn't bother me, but its something to remember if you are going for a nice presentation.
The fun does not stop here, check out cake student again because I will be trying out some new flavors soon. My package of pearl tapioca is still half full!

Recipe: Mango Bubble Tea
Ingredients
2 cups Frozen Mango chunks (trader Joes!)
1 cup milk
1 cup cooled Jasmine Tea
Instructions
The Pearls: Boil water. Add tapioca pearls and stir until they float. Continue to boil for 15 minutes (stir occasionally).
Remove from heat and cover.
Let sit for 15 minutes.
Drain and rinse with cold water.
Add honey and brown sugar to pearls, stir to form a syrup. Refrigerate until ready to use.
The Fruity beverage: Blend all ingredients together.
Serve over Tapioca Pearls.
Preparation time: 40 minute(s)
Number of servings (yield): 2