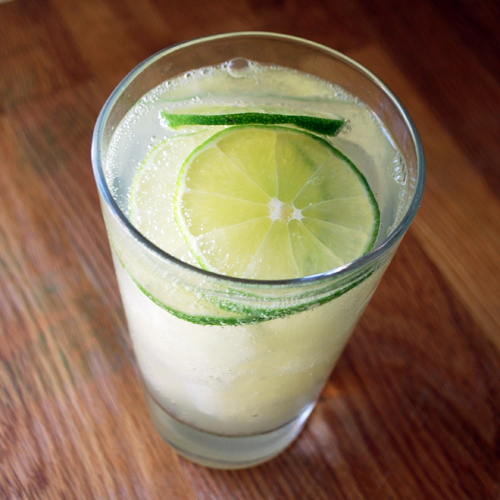 You can learn about ice. You can learn about mice.
Mice on ice. And ice on mice…
Nice ice for sale. Ten cents a pail.
From I Can Read with My Eyes Shut!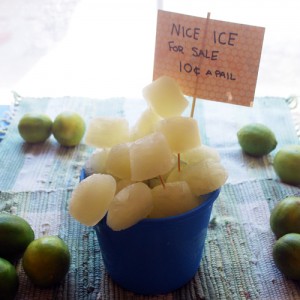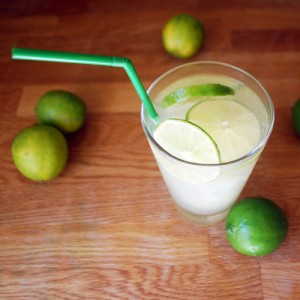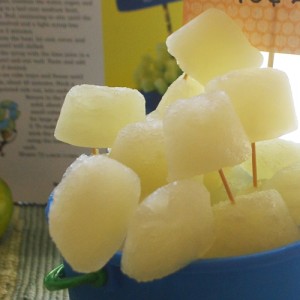 If you saw my last post about Blueberry Bumplings, you know we have been making wonderful concoctions in the kitchen from the The Green Eggs and Ham Cookbook, all recipes inspired by Dr. Seuss books. Nice lime ice is a really great recipe that I wanted to share because it was fun to make and its pretty versatile. The kids loved the ice pail tower (my son ate them right off the toothpicks). This recipe would make yummy popsicles just use in popsicle molds.
Everyone can enjoy this ice in sparkling mineral water with slices of lime. The ice provides non-stop limeade power… so as you drink toward the bottom your beverage gets a little sweeter. When your drink gets low, just refresh with more sparkling water. I drank 3 glasses during dinner before needing to refresh my ice! Adults could spike the drink to make a lime spritzer.
ATTENTION: GET YOUR FREE YOGURT
If you haven't read my 2nd to last post, then you probably haven't gotten your free yogurt sample yet. But fear not, its still not too late! Visit the Activia Selects Facebook page to get your FREE yogurt coupon. Take it with you to any local super market to redeem.
Recipe: Nice Lime Ice (Hold the Mice!)
Summary: Adapted from the Green Eggs and Ham Cookbook by Geogeanne Brennan
Ingredients
4 cups water
3/4 cup sugar
1/4 tsp salt
1/2 cup lime juice (about 7)
Instructions
In a saucepan, combine water, sugar and salt. Bring to Boil over medium heat, stir often. Boil until sugar has dissolved and light syrup has formed (about 2 minutes).
Remove from heat and let cool, refrigerate covered until chilled.
Combine syrup with lime juice in a pitcher, stir well.
Pur into ice cube trays and freeze for about 45 minutes. Then stick in toothpicks (if desired). Freeze for 4 hours more.
Make the towers by sticking the cubes together using the toothpicks.
Preparation time: 10 minute(s)
Cooking time: 5 hour(s) freezing
Number of servings (yield): 72 ice cubes