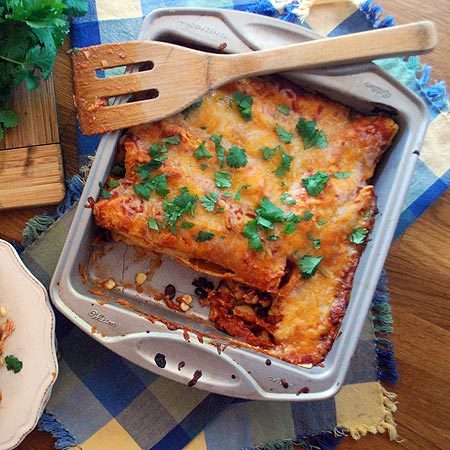 Best chicken enchiladas ever, my whole family loves these. It also happens to be absolutely fail-proof. The reason I know that? Well, I uh… know because… I uh I thought I messed up… no no I mean I TESTED it various ways just for you fine folks. I'm good like that.
Let's say for example... that "fresh" tomato you planned to use started growing some white fluffy stuff on it's backside? Have no worries. Substituting a can of diced tomatoes will do the trick.
Or this scenario... you finish assembling the entire dish and then it dawns on you: you skipped the microwave step of softening the tortillas? Fear not! Simply cover it in foil, and bake for about 15-20 minutes at 375F. Then remove the foil and broil for 3 minutes to brown the cheese.
Uh oh... <<smack your forehead>> looks like you didn't have as much leftover rotisserie chicken as you thought! Take a deep breath... it's going to be OK, maybe even better! Just add some extra veggies like a cup of frozen sweet corn kernels, fresh or frozen chopped spinach, some diced bell peppers, and/or zucchini to the filling. Get creative here and discover how fabulous you can be in the kitchen! (Actually, we really loved the corn so add them regardless of your chicken situation.)
Oh, did I mention this recipe comes from Cooking Light so it's easy on the hips. Don't you just love happy endings? ¡buen provecho!
20 minute Chicken Enchiladas
adapted from Cooking Light
Ingredients
12 - 6" flour or corn tortillas (flour is easier to roll)
¾ cup shredded 4-cheese Mexican blend cheese
1 cup chopped tomato
¼ cup chopped fresh cilantro
sour cream, optional
Sauce
1 onion, chopped (about 1 cup)
1 cup chicken stock
1 tablespoon all-purpose flour
1½ tablespoons chili powder
2 teaspoons ground cumin
¾ teaspoon garlic powder
½ teaspoon crushed red pepper
pinch of salt
1 (15 oz) can tomato sauce
Filling
3 cups shredded skinless, boneless rotisserie chicken breast
1 (15 oz) can black beans, rinsed and drained
Optional Filling Additions: Frozen sweet corn, chopped spinach (fresh or frozen), diced zucchini, diced bell peppers
Instructions
Preheat broiler to high.
Combine the sauce ingredients in a medium saucepan. Stirring with a whisk, bring to a boil over high heat. Cook 2-3 minutes until thick. Reserve about 1½ cups of the sauce mixture in a separate bowl.
Add chicken, beans, corn to the remaining sauce in the pan. Cook 2 minutes.
Wrap a stack of tortillas in a damp paper towel and microwave for 25 seconds.
Rub a 13 x 9 inch glass or ceramic baking dish with olive oil.
Spoon about ⅓ cup of the chicken mixture onto a tortilla. Roll, and set it seam side down into the baking dish. Repeat with all tortillas.
Top the rolled tortillas with reserved sauce and cheese. Broil 3 minutes or until cheese is lightly browned and sauce is bubbly.
Top with tomato and cilantro.
Serve with a spoonful of sour cream.