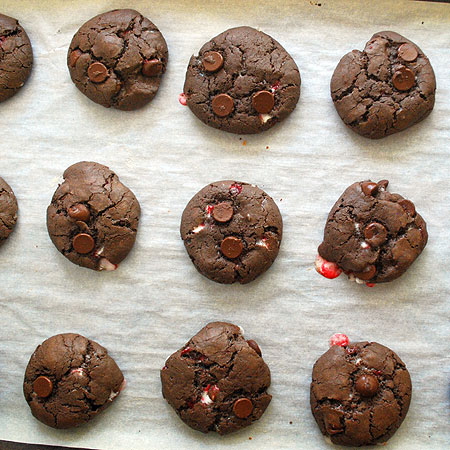 It's that time of year when gifts are getting hidden in every closet corner, Christmas cards are being received, and cookies are baking in ovens everywhere. If you're looking for the perfect cookie to leave out for Santa, I can guarantee these are going to make him one jolly old elf.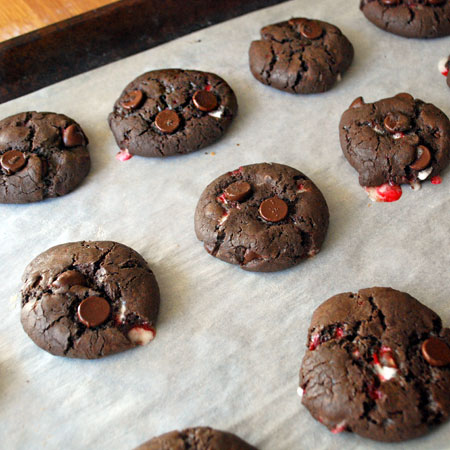 These peppermint chocolate cookies are my new favorite Christmas cookie, and that's saying a lot because I love Christmas cookies. The recipe comes from one of my favorite blogger friends, Brooke @ Crackers on the Couch. Every year, Brooke has a 12 days of Christmas series with some delicious recipes featured. This was part of last year's series. She tells me that the original recipe was tweaked a bit but came from a low-fat cookbook (Low-Fat Ways to Cook Desserts).
Brooke recommends using a food processor to turn those peppermint candies into dust, leaving only a few smaller chunks. You can achieve similar results crushing the candies inside a ziploc bag with a meat pounder or rolling pin, but it will take a little more time and muscle. I like having those few candy chunks because they bleed out during baking and leave a beautiful color!
Ho ho ho!

Chocolate Peppermint Cookies
from Crackers on the Couch
Ingredients
½ cup butter, softened (1 stick)
½ cup granulated sugar
½ cup brown sugar, firmly packed
2 eggs
1 teaspoon vanilla extract
2¼ cup all-purpose flour
1 teaspoon baking powder
¾ teaspoon baking soda
¼ teaspoon salt
¼ cup plus 1 tablespoon unsweetened cocoa, (I used dark cocoa)
⅔ cup finely crushed round peppermint candies (roughly 30 candies or 8 candy canes)
½ cup chocolate chips
Instructions
Preheat oven to 350 F.
Line a few baking sheets with parchment paper.
Using an electric mixer, beat the butter and both sugars.
Add the egg, vanilla.
In a separate bowl, combine the flour, baking powder, baking soda, salt, and cocoa powder, crushed candies.
Slowly mix in the dry ingredients to the butter mixture.
Finally, add the chocolate chips and mix until just combined.
Roll into small balls and set on baking sheets leaving 2 inches of space between.
Bake for 10-12 minutes.
Cool and enjoy!