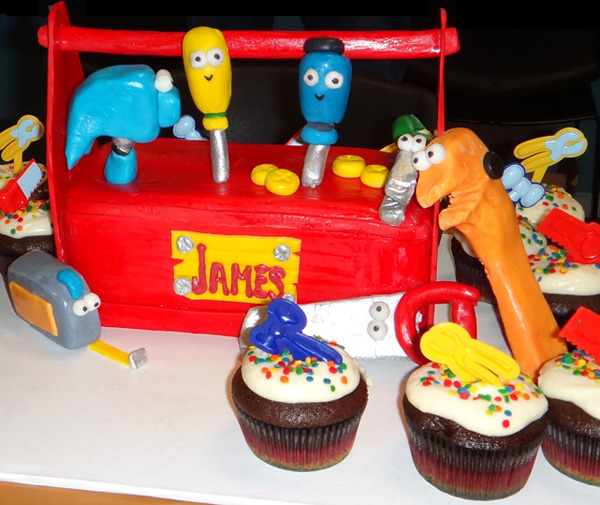 Whenever my husband gets out his tools to fix or assemble something in our home.. my son excitedly gets his toy tools so he can work alongside him as his trusty assistant. So, to celebrate his 3rd birthday, we had his party at every tool man's go to place… the Home Depot! And, of course, we had to have a tool box cake and cupcakes. Luckily my mom was in town and she helped me build this fantastic cake!
The party was centered around a wood working project (a helicopter) which the parents helped their little ones build. The Home Depot supplied the training room, balloons, project kits, and little orange apron for every party guest! They even had Homer, the Home Depot mascot, come in to greet the kids and pose for pictures.
To go with the building theme, we chose to make the cake look like the Handy Manny tool box. My little builder was so happy that day… and as cool as the cake was, I think his favorite part was sitting on his daddy's lap and building that helicopter!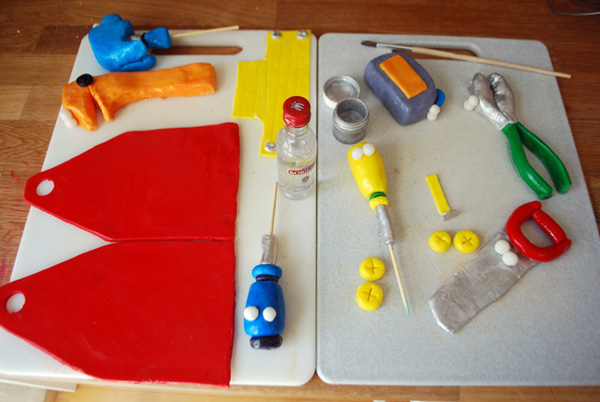 One little party goer had an egg allergy, so we made wacky cake, a delicious and super easy chocolate cake recipe that dates back to the late 1930's. It is believed that this cake was created due to the rationing of milk and eggs during World War II. The cake is light and very tasty. There are many variations of this recipe if you want to experiment with flavors or need to adjust for other allergies.

Wacky Cake Recipe
1 1/2 cup flour
3 Tbsp cocoa powder
1 cup sugar
1 tsp baking soda
1/2 tsp salt
1 Tbsp vinegar
5 Tbsp oil
1 tsp vanilla
1 cup water
Preheat oven to 350F.
Combine dry ingredients in a mixing bowl and mix thoroughly.
Mix wet ingredients in a separate bowl and stir to combine.
Add wet ingredients to dry ingredients and mix until you get a smooth batter. Do not beat.
Pour into greased and floured pan (8″ square or 9″ round) or 12 cupcakes. Bake in oven until tests done – about 35 minutes for cake, about 20 minutes for cupcakes.
Tool Box Cake Assembly
We used a 9×9 cake pan, cut it in half and put one piece on top of the other (with a frosting layer).
The tools are all made with colored fondant and shaped by hand. The screwdriver tools have a wooden skewer pushed through the center which is used to keep the pieces together and to stick into the cake. The tool box handle is a wooden skewer with red fondant rolled around it.
To get the silver color, let the fondant harden. Then you need to have a special silver dusting powder and vodka. Use a new paintbrush, dipped in vodka, to brush on the powder. Let dry.
To polish the pieces, use the paintbrush again dipped in vodka, this will smooth all pieces.