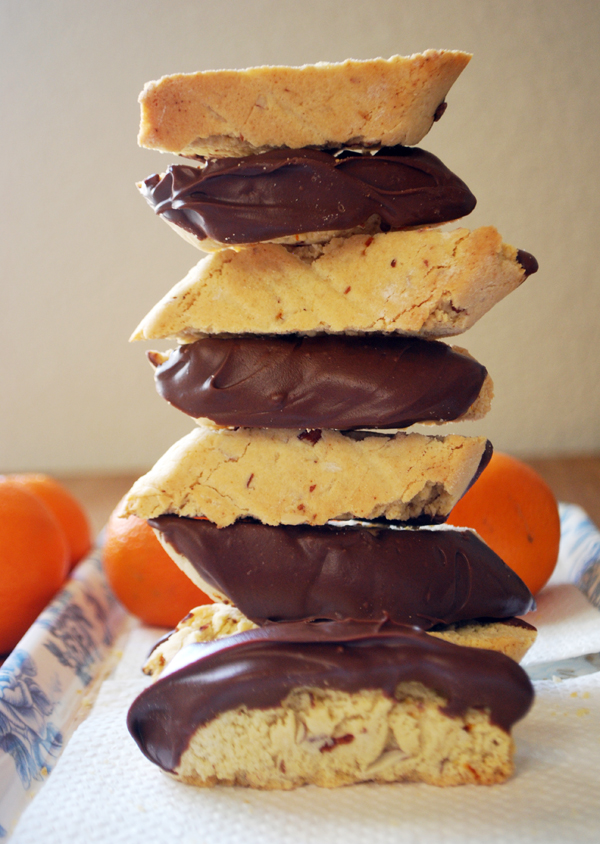 Last night I had one of those intense pregnancy cravings for biscotti… to the kitchen I waddled and 1 hour later… wallah! Delicious, almond and orange chocolate dipped biscotti cookies. These really are so easy to make and so good. It amazes me how much more tasty and affordable home made biscotti cookies are than the store bought ones. They have so much more flavor and not at all dried out tasting but dense enough for dipping in coffee or great served with vanilla ice cream. These make fantastic gifts or bake sale items since they can last much longer than your typical cookie.
By the time this scheduled post is published, my baby will already have been born. I am kind of working on a backlog of posts now so this blog stays fresh while I am busy with our new addition! But after sampling these cookies… I think I will be making these again very soon for my doctor as a thank you gift after the baby is born.
The cookies that lasted until the morning had the honor of making the photos.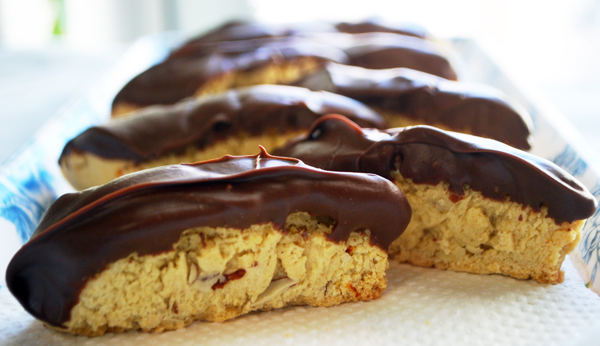 Almond Orange Biscotti
1/3 cup butter
3/4 cup white sugar
2 eggs
1 teaspoon vanilla extract
1/4 teaspoon almond extract
2 teaspoons orange zest
2 1/4 cups all-purpose flour
1 1/2 teaspoons baking powder
1/8 teaspoon ground nutmeg
1/4 teaspoon salt
1 cup semisweet chocolate chips
1/2 cup toasted almond pieces
Preheat the oven to 325 degrees F.
In mixing bowl, cream butter and sugar until light and fluffy. Beat in eggs, vanilla, almond extract, and orange zest.
Combine flour, baking powder, nutmeg, and salt in a separate bowl, then stir into the creamed mixture until just blended. Mix in almonds.
Mold the dough into a long flat and semi flat loaf.
Place the loaf onto parchment paper or on a well greased baking sheet. Bake in preheated oven for 30 minutes, or until a light golden brown. Then let cool.
With a knife, cut straight down, diagonally into slices about 1/2 inch thick. Arrange the slices still standing but separated on the baking sheet. Bake for about 15-20 minutes. Transfer to a wire rack to cool.
Optional – Melt chocolate in a microwave-safe bowl. Stirring every 20 to 30 seconds until smooth. Dip each cooled cookie into the chocolate. Let stand at room temperature until set. Store biscotti at room temperature in an airtight container.
Variations: I have skipped the dipped chocolate, and added mini chocolate chips to the dough batter instead. I have also used chopped walnuts in place of the almonds.