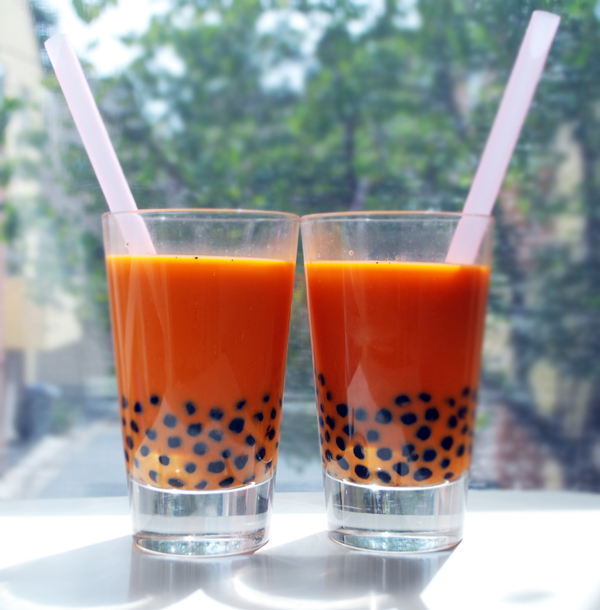 Bubble Tea was invented in Taiwan in the 1980's when a tea vendor started to add blended fruit to the tea to gain popularity with the school children, and when the tea and fruit were shaken it formed bubbles (hence the name). Not too long after, tapioca pearls were introduced and added to the drink which, once again, resembled bubbles. The drink is also known as "boba tea" because the texture is said to be similar to a female breast!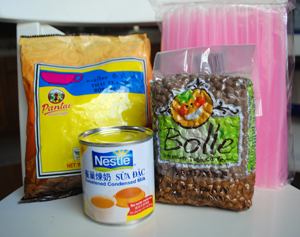 In California Bubble Tea is everywhere and, from what I have seen, you either love or hate it. I happen to love this refreshing and chewy beverage and decided to see if I could make it at home. We have a local Chinese grocery store that sells all sorts of tea products, so not knowing where to start… I had the grocer help me pick out the ingredients. I ended up with black bubble tea tapioca pearls, sweetened condensed milk, bubble tea straws, loose leaf Jasmine tea, and loose leaf Thai tea (which produced a very orange drink even with the milk in it).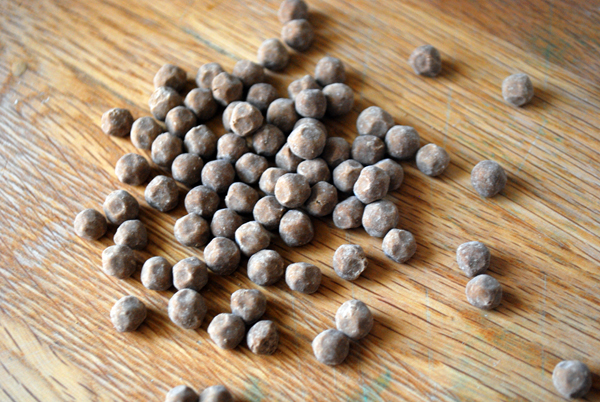 The process wasn't difficult and left me with the desire to try different recipes. Next time I'm going to try adding fresh blended fruit (so expect more posts on this topic). I thought the tapioca pearls had an awful smell and taste, so I really rinsed the pearls well when they finished cooking. After adding the honey and sugar they were much better.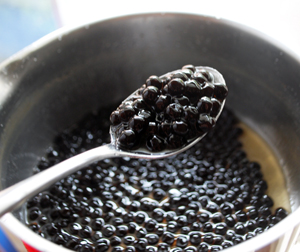 Using different types of brewed tea can change the color of your tea. The Thai tea was a bright orange, and the Jasmine was white (after adding the milk). For both types, I needed to strain the leaves with a sieve several times.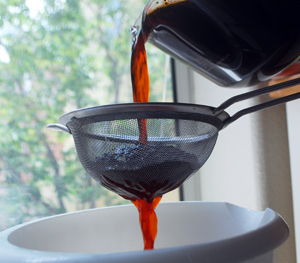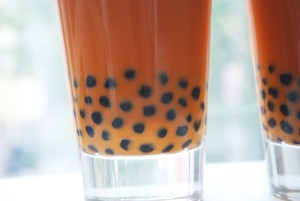 Recipe: Thai Bubble Tea
Ingredients
1 cup Bubble Tea Tapioca Pearls
8 cups water
4 Tbsp honey
2 Tbsp brown sugar
Your choice of Tea (freshly brewed)
Sweetened condensed milk (optional)
Large Bubble Tea Straws
Instructions
Boil water. Add tapioca pearls and stir until they float. Continue to boil for 15 minutes (stir occasionally).
Remove from heat and cover.
Let sit for 15 minutes.
Drain and rinse with cold water.
Add honey and brown sugar to pearls, stir to form a syrup. Refrigerate until ready to use.
To serve: Add about 1/4 cup pearls to a glass. If desired, stir in sweetened condensed milk into your brewed tea, to taste. Pour the brewed tea over the pearls. Add the straw. Enjoy!
Preparation time: 10 minute(s)
Cooking time: 30 minute(s)
Number of servings (yield): 4