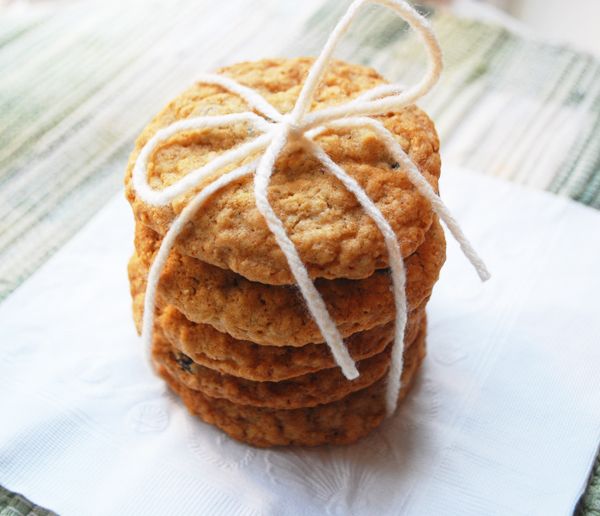 Another one of my favorite "go to" recipes from Roland Mesnier's book Dessert University. If you haven't read my recent post on Presidential Peach Pie, I talked about who Roland Mesnier is and how much I love his book. Once this book comes off the bookshelf, I seem to go on a crazy baking spree and so here is one of his cookie recipes that never seems to fail me.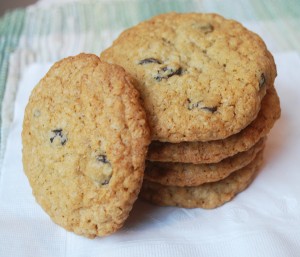 There is nothing better than cuddling up on the couch after a REALLY long and exhausting day, with a good book, a glass of milk, and a stack of these classic "oldies but goodies" oatmeal cookies. The perfect marriage of crispy and chewy, these are perfect for dipping in cold milk. I could honestly eat a dozen of them in one sitting if I didn't stop myself!
This recipe can be altered by using any variety of dried fruit like cherries or cranberries and or chocolate chips. I have made them all sorts of ways, depending on my mood or by what's in the cupboard. They always come out perfect, just follow the recipe exactly and keep an eye on them while baking. And ALWAYS use parchment paper, its the only way I have found to avoid the blackend bottoms. I also find that if I am baking two sheets of cookies at the same time, I will switch racks midway through baking so they bake more evenly.
I make these when I want to ship them to someone because I find they keep up well, even after a week. So even if you don't have a big household to cook for, make the full batch size and store them in your cookie jar.
Recipe: Oatmeal Cookies
Ingredients
1 1/2 cups all-purpose flour
1 tsp baking soda
3 cups quick-cooking (not instant) rolled oats
1 cup (2 sticks) unsalted butter, softened
1 cup granulated sugar
1 cup packed light brown sugar
2 large eggs
1 Tbsp pure vanilla extract
1/2 cup raisins, dried fruit, or chocolate chips (optional)
Instructions
Combine flour, baking soda and oats in a medium sized bowl.
In an electric mixer, cream together the butter and the sugars until smooth.
Beat in the eggs and vanilla.
Stir in the flour and oat mixture.
Finally, stir in the raisins.
Refrigerate the dough for 1 hour.
Preheat the oven to 375. Line sheets with parchment paper.
Make dough balls and place them on the baking sheet. Flatten with the palm of your hands.
Bake for 12-15 minutes, or until golden. Cool on a wire rack.
Store in an airtight container.
Preparation time: 1 hour(s) 30 minute(s)
Cooking time: 30 minute(s)
Number of servings (yield): 65 cookies