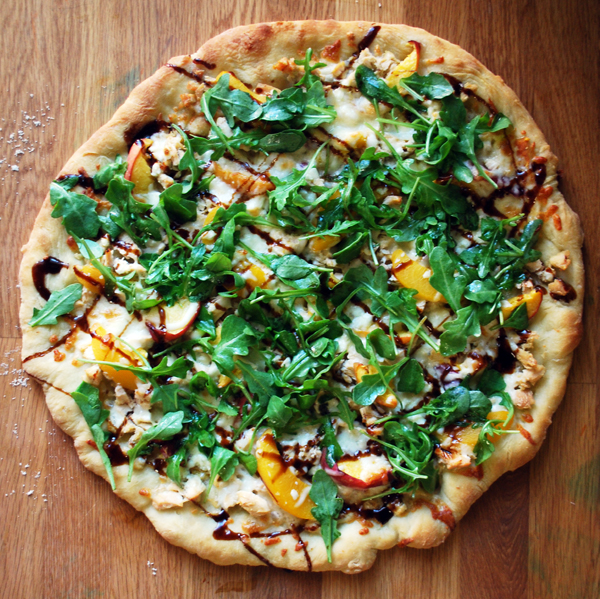 Goodbye red sauce pizzas! After having this surprisingly delicious combination of peach, cheese, and chicken pizza (a recipe by Cooking Light), I have opened my eyes to all new possible ways of enjoying a pizza pie. Having the arugula on the top was like eating your pizza and salad at the same time… and it works! I have made this 3 times in the last month, I may never tire of it.
The recipe is by Cooking Light and calls for less cheese than what I used, but I can't help myself… I like my pizza cheesy. It also teaches you how to reduce balsamic vinegar to make a thick syrupy glaze. I actually already had a bottle of Balsamic Vinegar Glaze in my cupboard (which I had bought by mistake) and was happy to find a recipe that calls for it. But after reading the instructions, I would imagine it would be very easy and quick to make the glaze. I wouldn't eat this pizza without it, the balsamic really adds a wonderful flavor.
If you don't have chicken already cooked, just put the raw chicken breast into a pot of simmering (low boil) water for about 10-15 minutes, or until no longer pink in the center. Let it cool. Take a fork and pull to shred it, or to save more time… just chop it up into tiny pieces. Do this while the pizza crust is cooking in the oven.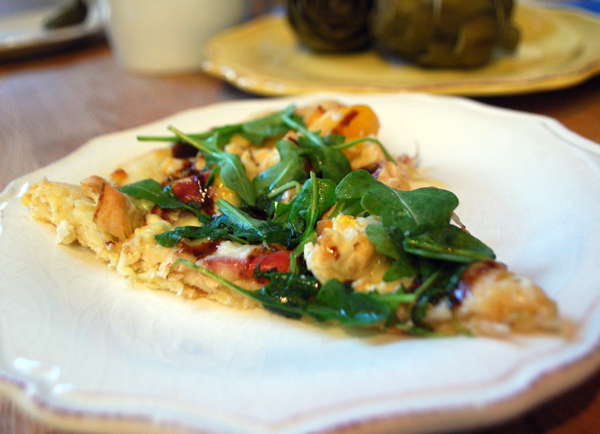 Ingredients
1 pizza dough (I use Trader Joes)
1 Tbsp olive oil
1 cup shredded mozzarella cheese
1 chicken breast (cooked and shredded)
1/3 cup crumbled Gorgonzola cheese
1 large or 2 small peaches, thinly sliced
1/3 cup balsamic vinegar OR balsamic glaze
a handful of Arugula Lettuce
Instructions
Preheat oven to 400.
Roll out dough on floured surface. Transfer to prepared pizza pan or baking sheet. Brush on a little olive oil. Bake for about 10 minutes or until no longer wet looking. Remove from oven.
Top pizza crust with half the mozzarella cheese, shredded chicken, peach slices, gorgonzola cheese, and then finally the last of the mozzarella.
Bake for 10-12 minutes or until the crust looks a nice golden color.
Meanwhile, if you are using balsamic vinegar… heat the vinegar in a small saucepan and heat on medium high for about 5 minutes. The idea is to reduce the vinegar until its a thick glaze. You can also buy this in glaze form (like I have).
In a small bowl toss the arugula with very little olive oil and balsamic vinegar.
When the pizza has finished baking, drizzle with the balsamic glaze. Top with arugula. Enjoy!
Preparation time: 10 minute(s)
Cooking time: 20 minute(s)
Number of servings (yield): 4 (2 slices per person)