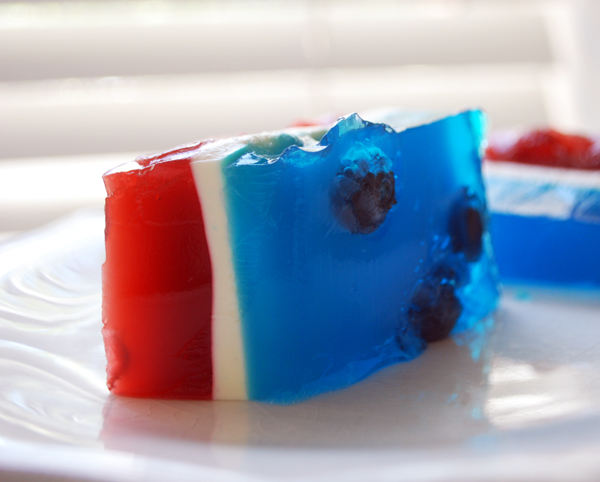 I never made a layered Jell-o dessert before, this is my first try. Since I found so many recipes on the web, I decided that YES the world needs yet another one, so I'm going to blog about it. And what a fun treat to celebrate our country's Independence Day… a dessert you can pick up with your fingers and looks patriotic to boot!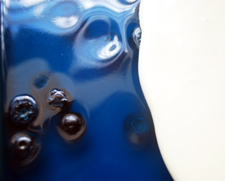 This type of Jell-o treat has been around forever. But there is a reason for it.. they are fun, tasty, and they make you feel like a kid! For some reason, they always seem to be a summer treat. Maybe because they remind me of swimming, weird right? Well, they are strangely refreshing.
This is definitely a kid treat, my husband and I aren't really overly thrilled about them, but they were fun to make with my son. I put some blueberries and strawberries in them to get a little nutritional value in them. I think they came out pretty well for my first attempt. If they don't cut well for you, just pile them into a small glass and throw some whip cream on them. The colors still look very nice.

To celebrate the Fourth of July, my hubby and I will most likely be packing up the car with some packed lunches, a big blanket, some homemade festive paper hats (thanks to my 3 year old), and heading over to the nearby park to have a baby crying – 3 year old's a whining – who forgot the napkins – what am I sitting on – baby needs a diaper change! – why are we doing this, kind of "special picnic lunch". But when we get through it, we will have the lovely memories. But honestly, I wouldn't trade those memories for anything.
Happy Fourth of July!
Ingredients
1 package (6 ounces) berry blue gelatin
1 package (6 ounces) strawberry gelatin
1 cup fresh strawberries sliced
1 cup fresh blueberries
water
1 envelope unflavored gelatin
1 cup heavy whipping cream
6 tablespoons sugar
2 cups (16 ounces) sour cream
1 tsp vanilla extract
Instructions
(Prepared in a 9×13 baking dish.)
Make Blue Layer: prepare according to package instructions, then add in blueberries. Refrigerate for 1 hour.
Make White Layer: in a medium saucepan, sprinkle the unflavored gelatin over a 1/2 cup of cold water and let stand for 1 minute. Then, over low heat, add the whipping cream and sugar and stirring until dissolved. Let it cool. When the blue layer is done in the fridge, then whisk in your sour cream and vanilla. Spoon over the blue layer. Refrigerate for 1 hour.
Make Red Layer: prepare according to package instructions, then add in strawberries. (Next time I might stick with raspberries, its easier to cut the blocks that way. Or dice the strawberries small. ) Spoon slowly over the white layer.. this is the most difficult layer because the white will sliver off if you go to fast. Refrigerate for another hour.
Preparation time: 15 minute(s)
Cooking time: 3 hour(s)
Number of servings (yield): 12