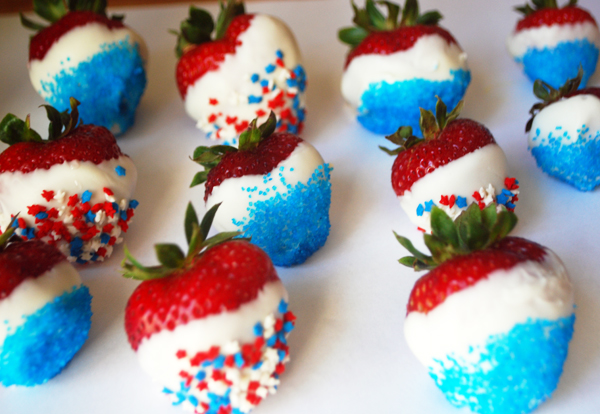 If you read my last post about Jell-o, you will know that we are going on a picnic this weekend to celebrate the 4th of July. I decided last minute to add another dessert, umm… I mean fruit, to our basket. So here they are… sweet strawberries with a little patriotic flair. These were fun to make with my 3 year old, he sat there and narrated everything I was doing "Now dipping into the chocolate!" "Now dipping into the blue stuff!" "Now it goes into my mouth!" He only got one for being a good helper (and lots of pre-dipped strawberries too).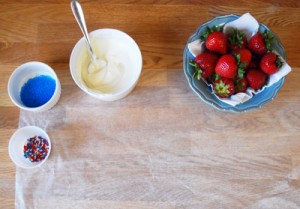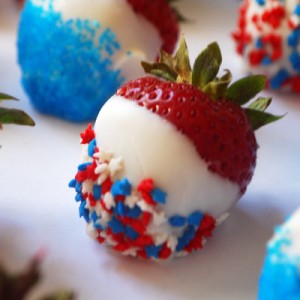 Recipe: 4th of July Strawberries
Ingredients
1+ cup White Melting Chocolate
12 strawberries
Sprinkles of choice
Instructions
Set up workspace by putting sprinkles in a small containers. Have an extra container handy. I used ramekins. Wash and dry strawberries. Lay out wax paper.
Melt chocolate in a microwavable safe bowl in the microwave by slowly doing 10 second intervals and stirring until its the right consistency for dipping.
Dip strawberry into chocolate, then hold over an empty bowl, shake the sprinkles onto the chocolate part. (This will help reduce the clumping in your sprinkles. ) Lay on wax paper to harden. Repeat for all. Melt more chocolate as needed.
Enjoy!
Preparation time: 5 minute(s)
Cooking time: 10 minute(s)
Number of servings (yield): 12