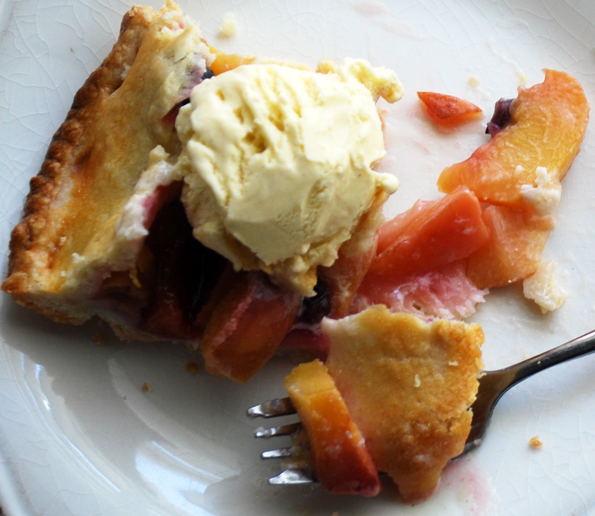 Peach Pie fit for a president… seriously… I'm not kidding… why? I'll tell you why. This pie dough recipe is from Roland Mesnier's book Dessert University. Roland Mesnier was the former White House executive pastry chef for almost 25 years. He made cookies and pies and everything sweet for Rosalynn Carter, Nancy Reagan, Barbara Bush, Hillary Rodham Clinton, and Laura Bush's tea parties, their family dinners, and state dinners.
My mother met him in person at a cake convention and gave me his autographed cookbook a few years back for Christmas. I will admit, that although his book has some pretty fancy schmancy things in there, the instructions are fairly easy to understand. I have only tackled the simpler recipes like pie dough, fruit salad, and cookies. One day when I'm braver, I might try pulled and spun sugar techniques.
Roland Mesnier's "All-American Pie Dough" recipe has never let me down, and it is what I use in this peach pie. It has a very nice flaky texture and it is very easy to make. The dough can be frozen for up to 3 months, simply defrost in the fridge overnight.
Peaches are in season now, so this pie is perfect for your next summer potluck picnic. I used my leftover blueberries as well, it gave the pie a nice tartiness to balance the sweet peaches, as well as a beautiful color combination. I hope you enjoy it as much as we did!
Peach Blueberry Pie
adapted from Tyler Florence
Double crust pie dough (see below for recipe)
10 peaches
Roughly 1/3 cup blueberries
1/4 cup sugar
juice of 1/2 a lemon
1 1/2 TBSP flour
2 TBSP butter
1 egg beaten with a splash of water for egg wash
Preheat oven to 400
Slice peaches (you can peel them if you like but I didn't. My husband would have preferred the skin off though.)
Toss fruit with the sugar, lemon and flour.
Roll out on of the divided pastry dough. The technique I like to use: sprinkle dough with flour on both sides. Sandwich the dough inside 2 sheets of plastic wrap, then using a rolling pin, roll out the dough into a circle. Lift off the top plastic wrap, then gently flip onto the 9″ pie pan. Pull off the remaining plastic wrap.
Spoon the fruit mixture into the pan. Dot with the butter.
Roll out the remaining pie dough and place on top of pie. You can keep it solid, or do strips, whichever you prefer. Make sure there are slits on the top.
Brush top with egg wash.
Bake for about 50-60 minutes. Serve with vanilla ice cream!
Tip: I usually put foil around the crust about mid way through to prevent the crust from burning.
All -American Pie Dough
from Roland Mesnier's Dessert University
3 1/2 cups cake flour
1/3 cup sugar
1/2 cup water
1 1/2 cups solid vegetable shortening
pinch of salt
Combine all ingredients in bowl of electric mixer, mix on low with paddle attachment until dough is smooth.
Divide dough into two equal pieces, wrap them in plastic wrap, refrigerate for at least 1 hour.
Makes enough for 1 double crust 9″ pie.