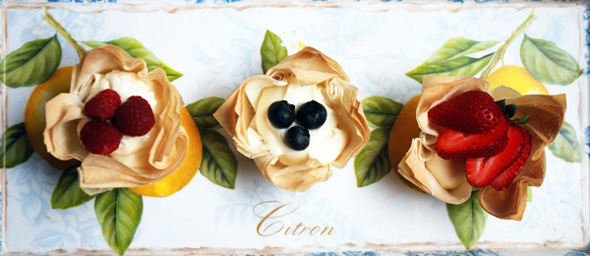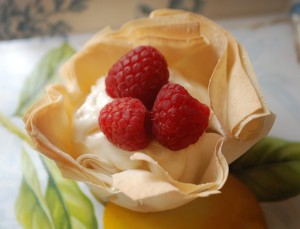 Last week I tried to make a dinner with phyllo dough, my first time working with the stuff, and it really wasn't anything noteworthy. It was a baked dish and the phyllo just tasted like paper. I was quite unimpressed, especially considering the preparation was confusing to me and therefore time consuming. So back into the fridge went the remaining unused dough to be used at a later date or just left to age so that I can find it acceptable to throw it out. (It has a 10 day expiration date once thawed).

Last night, I looked in the fridge and saw that I had unused whipped cream cheese (with no bagels), an overabundance of sweet summer berries, that lemon curd jar that we found to be too sweet for our liking, and of course the phyllo dough. So I went online, found various recipes, and then experimented. I made the phyllo cups the night before, and the cheesecake filling. I left the phyllo cups out on the counter, and the filling I put back into the cream cheese container and returned to the fridge for the next day. The next day… spoon the filling into cups, top with sweet berries… heaven!
The cups were light, sweet, crispy, and made a surprisingly loud crunch sound when bitten. The filling was rich and worked so perfectly with the fruit topping. This would be an easy dessert to serve for company since it could be prepared the night before (with very little effort). Once the cups are filled with the cheesecake filling they have about 1 to 2 hours before the bottoms start to get a little soft.
Ingredients
4 sheets frozen phyllo dough (14×9-inch), thawed
1/3 cup, and 4 tsp sugar
1 12oz whipped cream cheese
3 Tbsp Lemon Curd
Fresh raspberries, blueberries, or strawberries
Instructions
Preheat oven to 350F. Lightly coat a muffin pan with cooking spray.
Place 1 phyllo dough sheet out on a clean surface. Spray lightly with cooking spray, then sprinkle with 1 tsp sugar.
Place the second phyllo dough sheet on top of that one.
Repeat the process with remaining sheets.
When all 4 sheets are stacked, cut them into 12 squares.
Place each square stack into the muffin pan cup.
Bake for 8 minutes or until golden.
Cheesecake Filling: Whip the cream cheese with 1/3 cup sugar. Add 1 Tbsp of lemon curd at a time to get the right "lemon strength" for your taste. I used 3 and it was perfect.
Preparation time: 15 minute(s)
Cooking time: 8 minute(s)
Number of servings (yield): 12