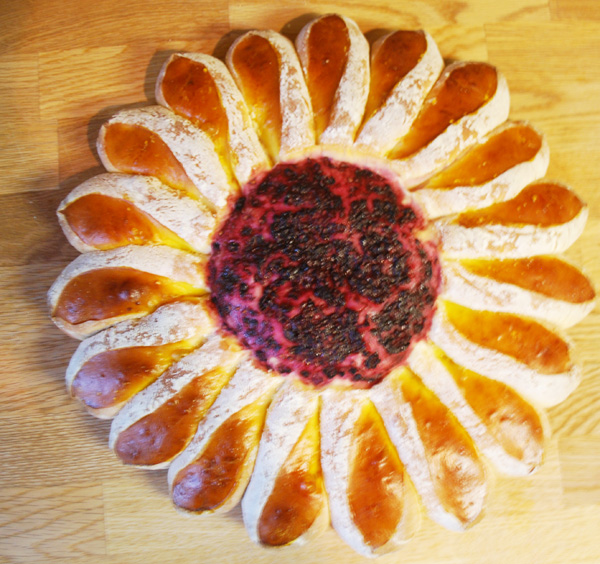 When I saw this beautiful bread on Chef Tess's blog, I had to try it for myself. I mean, what a creative way to bring major attention to your average dinner roll. I can just picture this at a summer picnic, or even a formal dinner party. Instead of passing a basket of rolls around, have each guest grab a petal!
I picked out a simple sweet bread recipe that I have used several times in the past with great success. For decorating, I used a turmeric powder to make the dye and crushed blackberries for the center. The blackberries were tasty on the sweet bread, but I think you could use chocolate chips, some variety of seeds, or maybe another dye made from cocoa powder for the center. If you have suggestions, please leave a comment, I would love to hear your ideas!
So the question is… was it a difficult process? I thought it would be but it was actually quite simple. Aside from the dough rising and baking time, it took about 20 minutes to form and "color" the flower, and I had a lot of fun doing it!

Sweet Bread Recipe
Taken from All Recipes
1 cup warm milk
1 egg
2 tablespoons margarine
1/3 cup white sugar
3/4 teaspoon salt
3 cups bread flour
2 1/2 teaspoons active dry yeast
Instructions
Combine the milk, sugar, and yeast in the bread machine. Let sit for 5-10 minutes until frothy. Add remaining ingredients and start machine on the "dough" setting.
Preheat oven to 350F
Place dough on floured surface. Roll it into a nice soft ball.
Transfer to a greased baking sheet or baking stone, flatten into a circle.
Place a small dish or cleaned out jar upside down in the center of the circle. I used a small ramekin.
Lightly brush or mist dough with olive oil.
Sprinkle flour over the exposed dough.
Remove the dish or jar.
Using a knife, cut your petals about 3/4 of an inch. Then Gently lift and slightly pull out the petal, then turn it to the side. Do this for all petals and adjust them lengthwise so they match.




Next make the dye for the petals: crack one egg in a small dish, mix in turmeric (or curry powder) little by little until you get the color you like.
Use a new paintbrush to brush on the dye for each petal.
In a small dish, crush blackberries. Gently spoon them into the center.
Bake for 25-30 minutes, until golden brown.