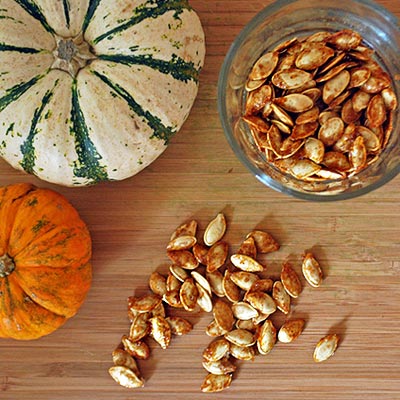 Last week my 5 year discovered the pumpkin pie pumpkins at the grocery store and was insistent we make a pie from scratch. So we did. It was delicious and much easier than I thought it would be. But that pie wasn't the highlight of the pie making adventure, it was these beauties.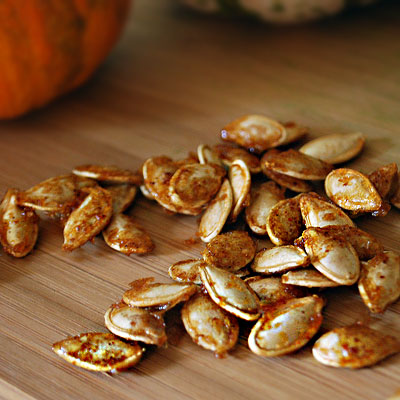 I got this recipe from Kate @ savour-fare, a blog I have followed for several years. It's a simple and delicious recipe you are guaranteed to love. I barely had time to snap these pictures because my son and my husband were popping them so fast. I wish that little pumpkin pie pumpkin had more seeds to offer us, but no worries, we have big 3 jack-o-lanterns to carve this week so I'm actually looking forward to gutting them. Wah ha, wah ha, wah ha ha ha ha ha ha hahahaha!
Happy Halloween!

Roasted Spicy Pumpkin Seeds
adapted from Kate Wheeler @ savour-fare.com
Ingredients
1 cup pumpkin seeds, washed and dried
2 tablespoons butter, melted
2 tablespoons brown sugar
1 teaspoon worcestershire sauce
¼ teaspoon cumin
¼ teaspoon garlic powder
1 large pinch sea salt
1 small pinch cayenne pepper
Instructions
Wash those pumpkin seeds, and let them dry by either: letting them sit over night, or bake them in the oven at 300 for 10-15 minutes, or take a hair dryer to them!
Preheat oven to 375F.
Mix the remaining ingredients together in a bowl. Stir in the seeds until thoroughly coated. Spread them out on a baking sheet lined with foil.
Bake them for 10 minutes. Enjoy!