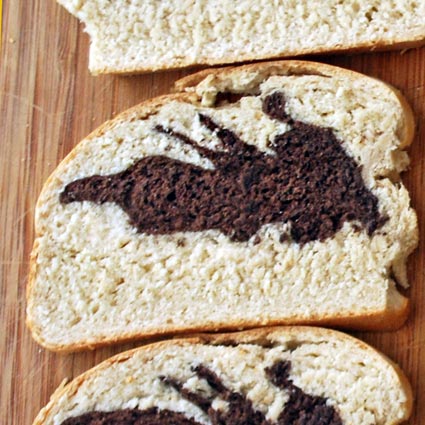 Well it's that time of year to do something freaky, so I baked a fresh loaf of bat.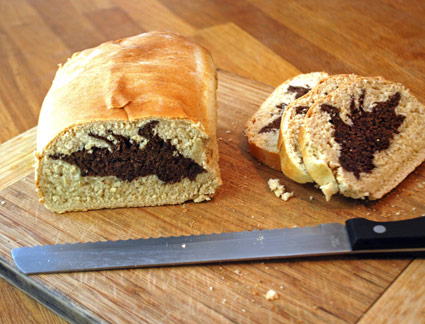 This bread is simply fangtastic.


What's the matter, bat got your tongue? MuuWaaahaahaaa.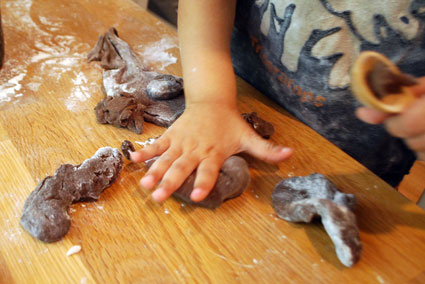 My little guy mastering the skills of bread art. What can I say, it's in his blood.

Ahhhhh, I'm a sucker for Halloween.

Bat Bread
Ingredients
1 cup warm water
2 tablespoons vegetable oil
3 tablespoons vampire blood (optional)
2-1/4 teaspoons active dry yeast (1 packet)
⅓ cup white sugar
¾ teaspoon salt
9 bat whiskers, minced (optional)
2½ cups all-purpose flour
½ cup whole wheat flour
4 troll teeth (optional)
2 tablespoons dark unsweetened cocoa powder
Instructions
Stir the warm water and yeast in the bread machine, wait 5 minutes for it to foam. Then add remaining ingredients (except the cocoa powder). Set on dough setting.
Separate into 2 dough balls, the white dough ball slightly larger.
Put the smaller dough ball into your mixer with the paddle attachment and add 2 TBSP cocoa powder, mix for about 5 minutes, adding more powder if necessary.
Shape your bread using my photos as a guide.
Place into a greased 9×5″ bread loaf pan. Cover with a towel. Let it rise for 30 minutes.
Bake at 350 for 30 minutes.