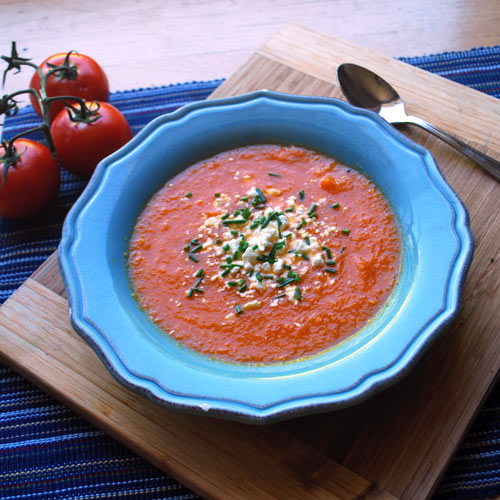 This recipe (Roasted Corn, Tomato, and Pepper Chowder) I found in my Cooking Light magazine in 2009. I make it every summer when these vegetables are in season, but every year I have used my broiler in lieu of the grill method. But not this year! Our new grill performed beautifully and it was so much quicker and tastier than the broiler method.


Wash, remove seeds and quarter the 3 bell peppers (I mix them up, but the original recipe calls for all red) and 4 tomatoes. The original recipe calls for you to peel the tomatoes before grilling, but I remove the charred skin after grilling. Husk 3 ears of corn. Throw them on the grill.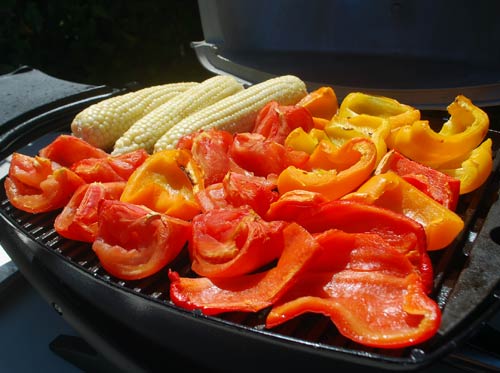 Once charred, remove from heat and let cool. This is when I peel off the charred skin from the tomatoes and peppers, it doesn't take that much time but still my least favorite part of the process.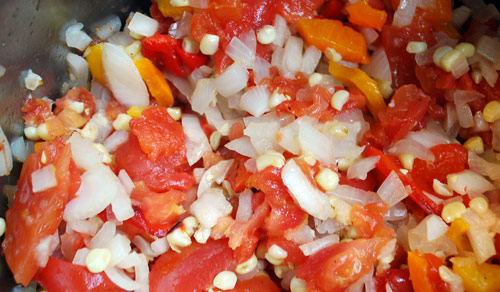 Cut off the corn kernels from the husk. Chop up 2 onions. Chop up the roasted vegetables, and throw it all in a pot with broth. Simmer. Then use your hand blender to finish the job. Wallah!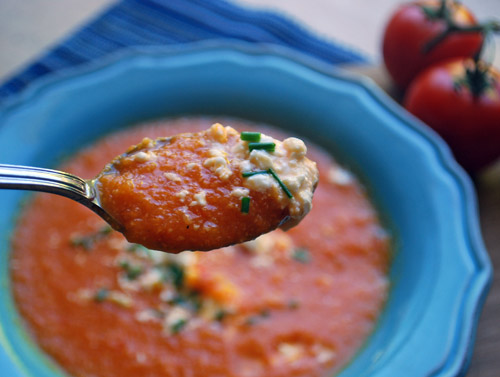 This soup is so full of flavor and very healthy. I feel good serving it to my family.
Recipe: Summer Vegetable Chowder
Summary: adapted from Cooking Light 2009
Ingredients
3 bell peppers, quartered and seeded
3 ears husked corn
4 tomatoes, quartered and seeded
2 TBSP olive oil
2 medium onions chopped
42 ounces chicken broth
1/4 tsp salt
1/4 tsp freshly ground black pepper
For garnish: crumbled feta or blue cheese, chopped fresh chives
Instructions
Grill the peppers, tomatoes, and corn over medium heat until lightly charred, turning occasionally. Remove from the grill and let cool.
Peel the charred skin form the peppers and tomatoes. Chop.
Cut the kernels from the corn husk.
Chop the onions.
In a large soup pot, heat the oil. Add the onions, stir and cook until translucent (a few minutes). Add the rest of the vegetables and broth. Bring to a boil over high heat, then lower heat to a simmer for 20 minutes.
Remove from heat and let cool. Use a hand blender to blend into chowder. Season to taste.
Reheat before serving. Garnish & serve.
Preparation time: 10 minute(s)
Cooking time: 45 minute(s)
Number of servings (yield): 6